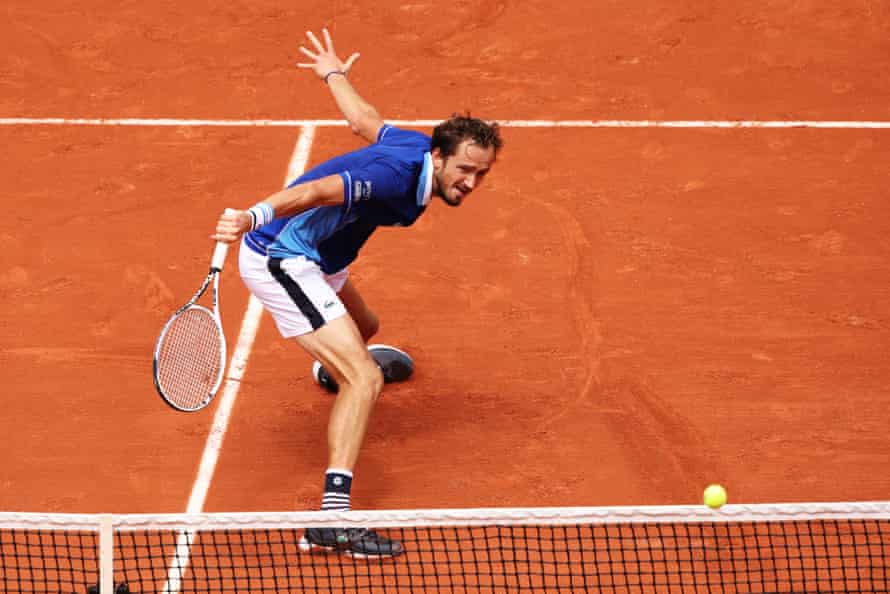 Keys wins first set against Garcia 6-4. Having got herself back in the first set, Garcia is broken again, pulling a forehand wide on break point to gift Keys the first set. At almost exactly the same time, Gaston is broken back too as Cochin produces some fine returns to level their third set at 4-4. The Argentinian has dug deep here despite looking second best for much of this match.
Some home cheers over on Philippe Chatrier too as Caroline Garcia breaks back against Marion Keys. The American broke in the sixth game but, serving for the first set, gets a little jittery, an unforced error and double-fault helping to hand her opponent two break points. Keys saves the first of them but not the second. It's back on serve at 5-4 to Keys.
Garcia's compatriot, Gaston, is two games away from victory at 4-3 and a break up in the third set against Cochin.
Hurkacz wins the first set against Cecchinato 6-1. The imposing Polish 25-year-old isn't hanging about, romping through that first set in 24 minutes. Meanwhile, Gaston's stepped up a gear again against Cachin, earning three break points in the fifth game of the third set. Cachin saves the first after an energetic baseline rally, and the second with a cute drop-shot before squandering it with the softest of double-faults. Gaston is a break up at 3-2, and two sets ahead.
Over on Suzanne-Lenglen, the Frenchman Hugo Gaston is pleasing the home crowd with a strong performance against the Argentinian Pedro Cachin. Gaston, ranked 74, leads 6-4, 6-2 and it's 1-1 in the third.
Cheers John. Afternoon everyone. Let's have a quick scoot around the courts shall we? David Goffin has come from behind to go two sets to one up against the American Frances Tiafoe, Marton Fucsovics of Hungary has won the first set against Marin Cilic and the No 12 seed, Hubert Hurkacz of Poland, has just begun his match against the Italian Marco Cecchinato. On serve so far in that one at 2-1 to Hurkacz, first set.
Now to hand over to the excellent Tom Davies as I go and sips some barley water.
More from the star of the day so far, Leolia Jeanjean, whose comeback from five years out with a knee injury has made her France's new darling. She beat Karolína Pliskova, the number eight seed, 6-2 6-2.
I don't really know what to say actually because what's happening right now, it's really something I never imagine before,. You know, when I stopped playing for four, five years, I never told myself I'd be in the third round of a grand slam.

I don't have an explanation. I don't even realise what's happening. I know I'm 26. It's my first grand slam. I thought I would have lost in the first round in two sets, and now I found myself beating a top-10 player.

I don't really know how it's possible, what's happening. I just try to give my best to play my tennis, and it's working so far. When I stopped playing when I was young, I just wanted to give myself another chance, because in my head since I was good when I was like 14, 15, so I'm like, 'why I can't be good 10 years later?'.

So that's why, yeah, I took my chance, and so far it's working.
Daniil Medvedev talks to Mats Wilander.
I thought I was going to speak French, you need to progress your French. I have a lot more to do to be remembered like you, and I am happy you like my style of play. I think Lazlo was playing better clay court tennis, it was a tough natch, and I am happy to win. I don't know if it was cramp but I tried to make him play more balls. He makes a mistake or makes a winner some tome. I was not totally confident. It'd definitely not easy.
He then thanks the crowd en Français.
Medvedev beats Djere 6-3 6-4 6-3
Djere starts with a double fault, but then works his way to 30-15, then overcooks a backhand for 30-30. Then a double hands a match point to Medvedev, as does a missed winner. So many mistakes from the Serb but that will do nicely for Medvedev, back after surgery and the uncertainty over Russian involvement.
Djere, with a 65th unforced error, hands Medvedev advantage on the Russian's serve, and then misses a winner that smashes into the net. The Serb must hold his serve to stay in the match.
Medvedev makes it 4-2 by serving to love. He's got there with 13 points on his serve. Djere, at the start of the seventh game had required 62, but this time his hold of serve is simple enough for 3-4 in the third.
Djere will rue an awful lot of missed chances today. Medvedev, not a natural man for clay, more a man for concrete, has offered up plenty and most seem to have ended in the net. The double faults are not helping, either. Another lengthy game on his serve results as he can't get the job done. Until now, after another epic, Djere wins for 2-3 in the second set.
Some quotes from Paula Badosa, the third seed, after her win over Slovenia's Kaja Juvan.
It was a very touch match and I expected a match like this. I still need matches here to feel a little bit better. I was nervous and stressed. She was running, getting all the balls. In that moment I tried to stay as calm as possible and play aggressively.
An epic game there. Medvedev began the third set with a break of Djere and then, as if struck by nerves, handed it straight back, double-faulting on the last point. Then follows a long game on the Serb's serve, Medvedev missing a winner on break point. The Russian even seems to be enjoying how long this third game of the third set is carrying on for. Djere then misses a volley at the net. But then gets an advantage with an overhead. That's saved by a Medvedev passing shot midway up the court. This is a marathon now. Then smash after smash is followed by lob after lob with Djere eventually netting his smash. He then saves with a winner down the line. Then misses volley when Medvedev had sallied all the way back into the Seine, and it's coughed up to the Russian by a double fault. That took 16 minutes.
Some Reuters copy on that amazing win for Jeanjean over Pliskova.
The 26-year-old Jeanjean is a former big hope of French tennis who ended up living on minimum wage after a knee injury suffered when she was 15 kept her off the courts for two years.

Dropped by Nike, who had given her a 10-year sponsorship deal, and by the French federation, who had assigned her a full-time coach when she was 12, Jeanjean went to study in the United States at the Lynn University in Florida. She came back to tennis after five years in the U.S. only for her return to be slowed down by the Covid-19 pandemic.

"I lived on minimum wage and I didn't live from day-to-day, but week after week. I put all the money I had into a week's worth of tournaments and if they went well I got another week, but if they went badly I didn't play for two months because it was financially impossible," she said.

On Thursday, Jeanjean outfoxed eighth seed Pliskova, a semi-finalist here in 2017, to get into the third round. "I could not try to overpower her, it was impossible, so I had to try to derail her and it worked perfectly," she said on court Simonne Mathieu.

Jeanjean, whose early rise had drawn comparisons with Martina Hingis, will next face Russian Ekaterina Alexandrova, the 30th seed, or Romania's Irina-Camelia Begu.
Medvedev, having broken back when looking in trouble in the second set, will serve out for it against Djere. The Russian, who may be a bit rusty due to not playing too much of late, bullies the Serb into an error to gain set point. That's saved by a backhand pass on the service return. Then, Djere goes long, and it's already two sets up for Medvedev.
Badosa beats Juvan 7-5 3-6 6-2
Badosa wins, perhaps the beneficiary from her opponent's physical problems but gutsy play got her back into it. The third round calls her.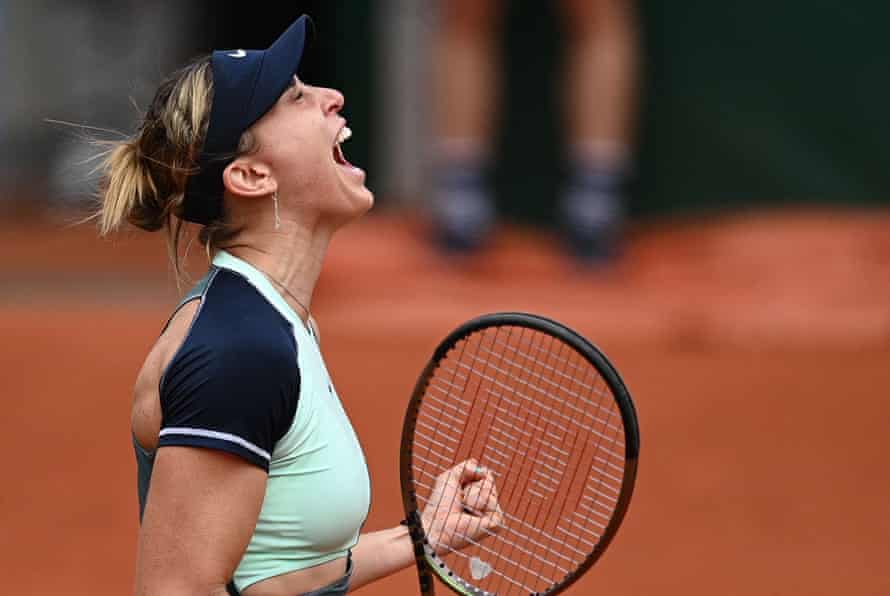 Juvan's back seems to be giving up the ghost as Badosa goes 5-2 up. Not long now.
Badosa's now 4-1 up, and surely cruising through, perhaps having learned a bit about herself. Medvedev won the first set against Djere 6-3, and it's going with serve in the second set at 2-2.
Badosa's really got the bit between the teeth, her leggings long since shed, and unperturbed by the coaching violation, and she goes 3-1 up after a break. The no 3 seed finding her form at the right time.
Badosa, fighting for her life, breaks back and it goes with serve in the third set. Then serves to love to go 2-1 up. Juvan's muscles slowing her down? Perhaps.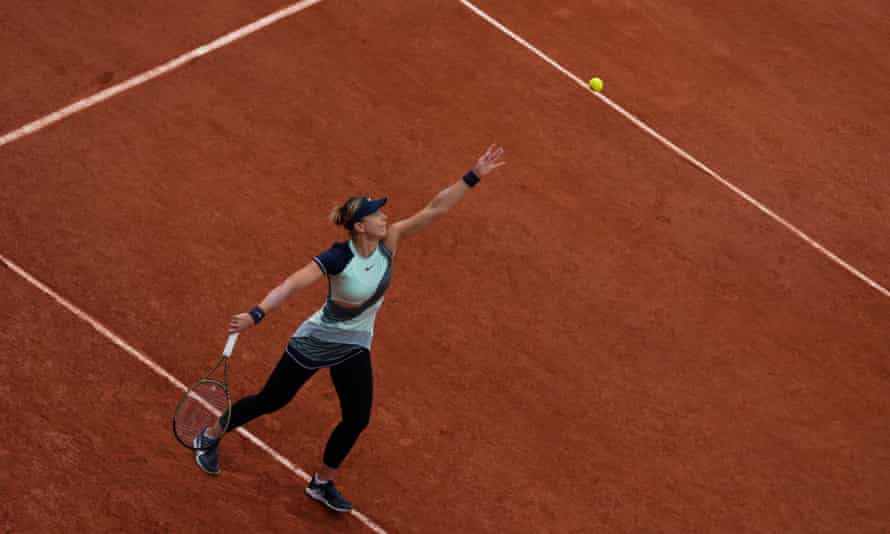 At 1-1 in sets, Juvan, having won the second set, seems to have a problem with her stomach muscles. The physio works with her, and her breathing seems a tad impaired, only for her to blaze to a 1-0 lead in the third set, by breaking. Badoso gets a warning for being coached from the sidelines.
Badosa shows signs of life in forcing Juvan back out to serve for the second set, but Juvan gets the job done at 6-3.
Juvan is now leading Badosa in the second set, and 4-2 up, and serving, it's soon enough 5-2. Medvedev and Djere are level at 2-2, it's going with serve so far on Philippe-Chartrier.
Jeanjean beats Pliskova 6-2 6-2
Another wondrous drop shot takes Jeanjean to deuce on Pliskova's serve. Will she get the job done without having to serve out? Pliskova manages to hold on. Now, what can the 26-year-old from Montpellier produce? She starts with typical grit and, on her first ever grand slam appearance gets a bit excited by playing one of those drops. This time, Pliskova reads it. But then Jeanjean seizes a match point with a clubbing backhand. "Allez allez", say the home fans. She serves it out. Last year's Wimbledon finalist, the eighth seed, beaten in straight sets.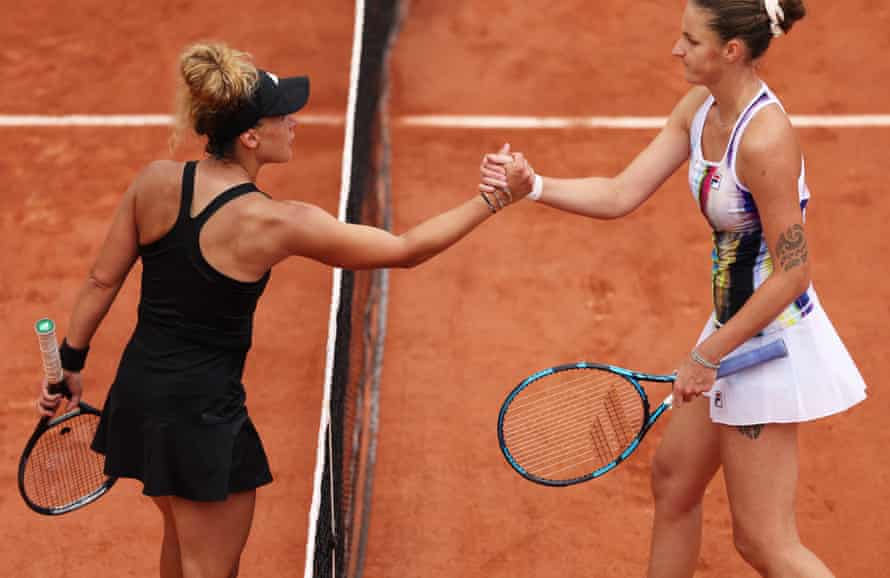 Pliskova takes her first game of the second set but still trails 4-1 and a set down to Jeanjean. Soon enough, though her resistance level has increased, she's 5-1 down.
Medvedev is imminent, he's knocking up on the centre court, and elsewhere, Badosa managed to reclaim her lead in the set and take the first 7-5 from Juvan.
Jeanjean's surge seems to come to something of a halt and Pliskova, who must be getting desperate, gets to break point, only to hit the net cord. Jeanjean gets within a point of a 4-0 lead only for the Czech to play a fine passing shot. Then comes a wonderful drop volley, and Jeanjean gets the chance to hold at that 4-0 lead. And with a scything backhand, she gets the job done.
Jeanjean is on course for a huge shock win, leading 3-0 in the second set, returning like a demon the Pliskova serve, and with the home crowd well on her side.
Juvan hanging on grimly, and Badosa will be asked to serve out the first set, and fails to do so. It's 5-5, and the momentum is back with Juvan.
Badosa now a double break up on Juvan, 5-2 up and will serve for the set. There's a shock in store on Court Simone-Mathieu, where Jeanjean, dominating her opponent at present, serves out against Pliskova to take the first set 6-2.
Jeanjean has causing big problems for Pliskova at the moment, and the French wild cards breaks after the eighth seed double faults. It's 3-2. Badosa is a break up on Juvan, and leading 4-2 in the first set. She's wearing leggings, perhaps as it's a bit chilly.
Some other matches on today at Roland Garros.
Paula Badosa surged into a 2-0 lead, having broken Kaja Juvan, but has been pegged back by the Slovenian so it's now 2-1. And Pliskova, and Jeanjean are at 2-2.
Under the bridges of Paris we go once more, to channel Eartha Kitt. It's a day when Wimbledon-verboten Daniil Medvedev meets Serbia's Laslo Djere on Philippe-Chatrier, and over on Court Suzanne-Lenglen, last year's quarter-finalist and no 3 seed Paula Badosa is already underway with her match against Kaja Juvan. Later on, we will see local favourite Gilles Simon in action, against the American, Steve Johnson, and Dan Evans continues the plucky Brit trail in taking on Sweden's Mikael Ymer. And Wimbledon and US Open finalist Karolina Pliskova takes on French wildcard Leolia Jeanjean on Court Simonne-Mathieu as well.
Perhaps not a day for the biggest guns, but Simona Halep, due to start knocking up around lunchtime, is a big draw, as is Iga Swiatek, who was devastating in her first round match. Halep takes on the Chinese teenager, Qinwen Zheng, while Swiatek takes on Alison Riske of the United States.
It's a bit cloudy in Paris, which is also starting to fill with fans of Liverpool and Real Madrid.
https://www.theguardian.com/sport/live/2022/may/26/french-open-2022-medvedev-swiatek-and-halep-in-action-on-day-five-live