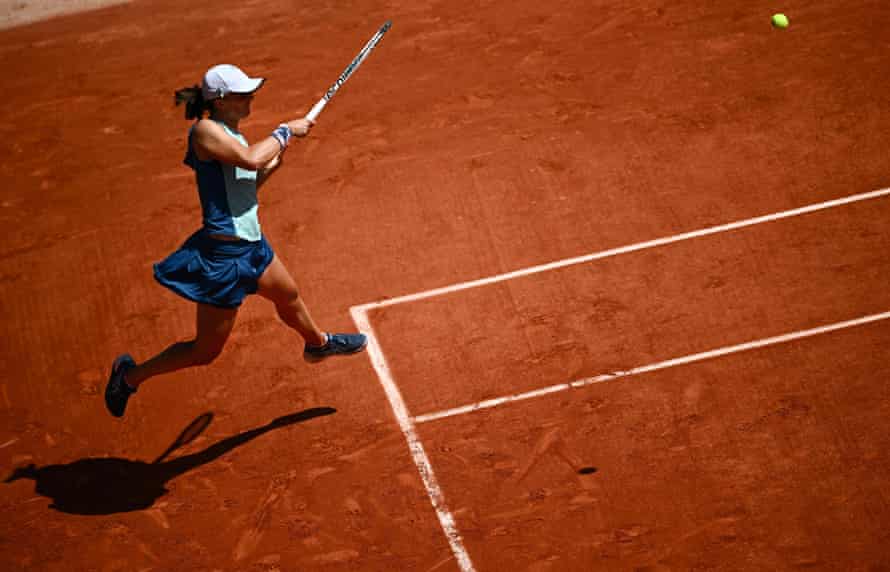 Swiatek 6-3 Pegula*
Pegula, suddenly serving to stay in the set, has played very well but in addition to lacking a stroke of luck, she is also getting very slightly outgunned in the critical moments. Swiatek hunts down a drop shot rapidly to take a point. At game point, Pegula nets and takes the world No 1 two points away from 1-0.
It's a poor time for a weak first serve and a return sent long. Swiatek's eyes light up with a second serve to play with, and a set point in her lapel pocket … but smashes it well long.
Set point two soon follows, and the set is more handed over than won in the end, Pegula thrashing well wide.
Swiatek 5-3 Pegula*
Fingers crossed that oversight doesn't prove the difference. She immediately appears to have put it behind her, and takes Swiatek to deuce. She then repeatedly slaps her thigh in anger (thankfully the unstrapped one) after gifting the next point to the Pole.
Pegula gets back on terms with a fine winner, but fails to get a stroke of luck back after hitting the net cord, and then Swiatek forces her to return long with more powerful hitting. The American clearly sniffed a chance there, and bounces her racket in mild frustration.
*Swiatek 4-3 Pegula
Swiatek piles the pressure on, powering through baseline exchanges and taking the game to 0-30. And then wide eyes greet the scoreboard reaching 15-40, having forced Pegula to return long. The American tries to catch her out with a drop shot, but Swiatek gets there, sliding in low and dabbing it over at the angle to bring up the break.
Good eyes from the Eurosport commentary team, who clock that the ball bounced twice before Swiatek managed to get it over the net. Incredibly difficult to see that conclusively in real time, but still unlucky for Pegula, who had raised a quizzical eyebrow.
Swiatek 3-3 Pegula*
Much, much better from the world No 1, backing up strong serves with irretrievable returns, then aceing – her third – to seal the game to love.
*Swiatek 2-3 Pegula
Pegula tries to switch things up and sends Swiatek rushing with a drop shot. However, she has the legs to get there and forces the American to dump her return low into the net.
The New Yorker regains her composure and takes control, holding fairly comfortably. This is a good performance from Pegula, and Swiatek looks below her best, having already contributed 12 unforced errors.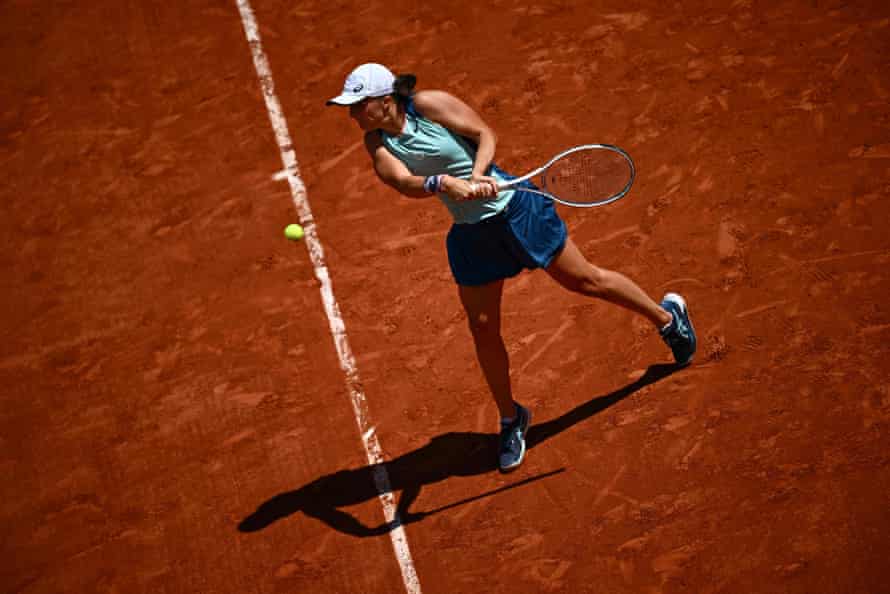 Swiatek 2-2 Pegula*
Another wild swing from Swiatek gifts a point Pegula's way but her second ace makes it 30-15, before a delicious backhand down the line offers breathing space. Pegula goes long and Swiatek holds quickly.
*Swiatek 1-2 Pegula
The early pattern suggested that the longer the rally goes on, the more likely Swiatek is to win the point. She goes 15-30 up on the American's serve, but Pegula is impressively unruffled and evidently has no intention of being rolled out of the tournament without a fight. And she starts upsetting the pattern, emerging on top of a few lengthy exchanges.
Both net chances to get on top and the unforced error count racks up through a string of deuces, surprisingly so on Swiatek's side of the net. The Pole's frustration is clear. Pegula hangs on for the hold.
Swiatek 1-1 Pegula*
No let up from the 2020 champion. She looks well up for this, chasing down an attempted drop shot with ease, getting slightly lucky with a casual-looking smash, then aceing to go 40-0 up.
Pegula returns with interest to keep the game alive, however, then takes it all the way back to deuce by forcing a couple of netted returns – and then a third to bring up her first break point. A good response from the 28-year-old.
The break is secured as the net-cord sends an attempted Swiatek return well wide. 1-1!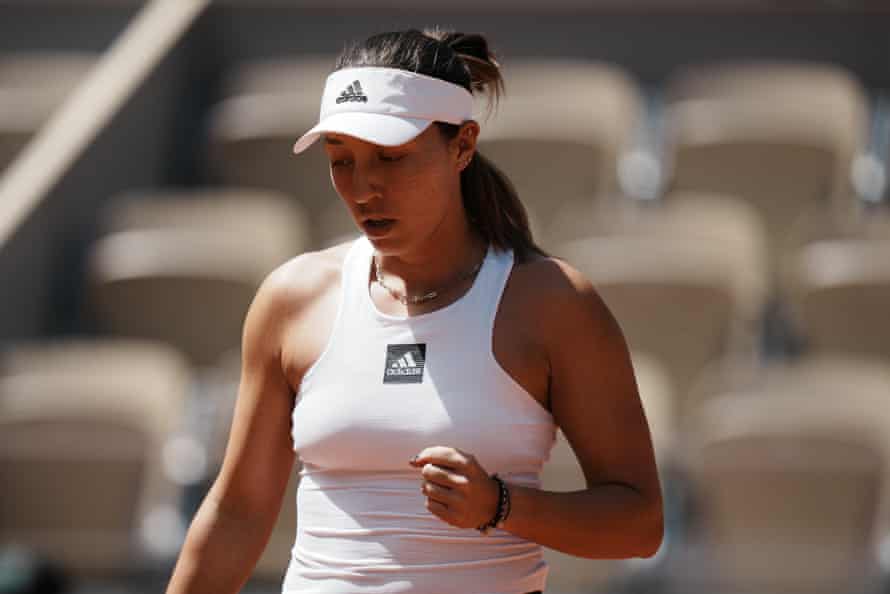 *Swiatek 1-0 Pegula (* denotes next server)
The first point, on Pegula's serve, goes to the world No 1, but the American – who has sizeable strapping on her left thigh – responds well to go 30-15 up. The Pole then capitalises on an error before thrashing a winner to bring up the first break point of the match.
That's saved beautifully with a crosscourt forehand, but there's more work to do as Swiatek forces another mistake. Another break point … and immediately Swiatek gets on top of the baseline exchanges and takes the early initiative.
Things are heating up at Roland Garros, with the temperature now at 21C, but more pertinently with Iga Swiatek hitting up ready for another quarter-final.
This encounter is an example of how misleading head-to-heads can be in sport. The tally sits at 1-1, with Swiatek having knocked Pegula out in Miami earlier this year, and the American coming out on top at the Washington Open in 2019 – that tournament remains the only one Pegula has won in her career.
Swiatek, meanwhile, has won five this year alone, and is on a 32-match winning streak. To contextualise that, her run matches one managed by Justine Henin, and is only bettered this century by both Venus and Serena Williams (who managed 35 and 34 respectively). If she wins the tournament, she will also reach 35.
Pegula is having a good year, however, at her career-high ranking having reached the Australian Open quarter-final. But can she raise her game even further against the world No 1? Let's find out …
Semi-finals reminder: Kasatkina will play the winner of the match between Iga Swiatek and Jessica Pegula, which is the next match on Court Suzanne-Lenglen. The players are emerging now.
In the other semi, Martina Trevisan will face 18th seed Coco Gauff.
French Open to consider earlier starts to big night matches
French Open chiefs will discuss introducing earlier starts to showpiece night matches following the ludicrous late finish between Rafael Nadal and Novak Djokovic. Nadal and Djokovic's quarter-final began just after 9pm local time at the behest of broadcaster Prime Video.
The temperature had dropped to 12C and some spectators had left while others were wrapped in blankets by the time Nadal wrapped up victory in four sets at 1.15am.
Both Nadal and Djokovic later admitted the match started too late. "It is, without a doubt," said Nadal. "Of course I understand the other part of the business, without a doubt, that televisions pays a lot of money to have matches that late, then the tournament makes money and then the players make money, no? We need to find a balance."
Tournament director Amélie Mauresmo, the former Wimbledon and Australian Open champion, said: "Obviously it's not simple. It's the first year that I'm the tournament director. I'm learning a lot of things regarding the scheduling of the tournament. Having such late matches could actually trigger some questions. I'm wondering about it myself, to be honest.
"I do not have the answer yet, because we actually see a day at a time and will certainly ask ourselves what to do next and we will try to do some debriefing to see what worked out well, what didn't work out well with some hindsight, and it definitely will be on the table."
There has been further controversy surrounding night sessions as only one of the 10 has featured a women's match, Alizé Cornet's second-round win over Jelena Ostapenko. But Mauresmo added: "In this era that we are in right now – and as a woman, a former woman's player, I don't feel bad or unfair saying that – you have more attraction, appeal [in] general, for the men's matches." PA Media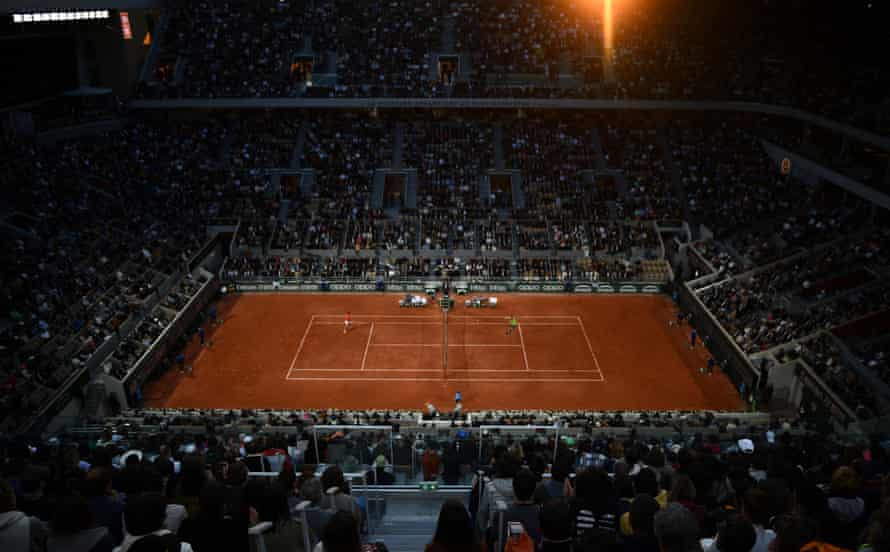 The match was really nervous and tight – especially the tiebreak, the last few points were super-tight. I'm happy at the end that I won, it's important for me and I'm happy to be in the semis for the first time.
Daria Kasatkina beats Veronika Kudermetova 6-4, 7-6 (5)!
Kasatkina gets an early mini-break and quickly goes 3-0 up after another long 'un from her opponent. The timeout has seemingly even further upset Kudermetova's slightly wonky rhythm. A wild thrash wide makes it 5-0 – with Kudermetova uncomfortably close to the half-century of unforced errors in the match.
At 1-5 down, Kudermetova nets a regulation return, and suddenly faces five match points against her.
She saves the first with a hefty serve, then the second with a superbly measured winner down the line. Then, improbably, Kasatkina gives up the third and fourth.
For the fifth, a fine rally of power and variety comes to an end, slightly inevitably, with Kudermetova netting an attempted return. Daria Kasatkina has made her first grand slam semi-final!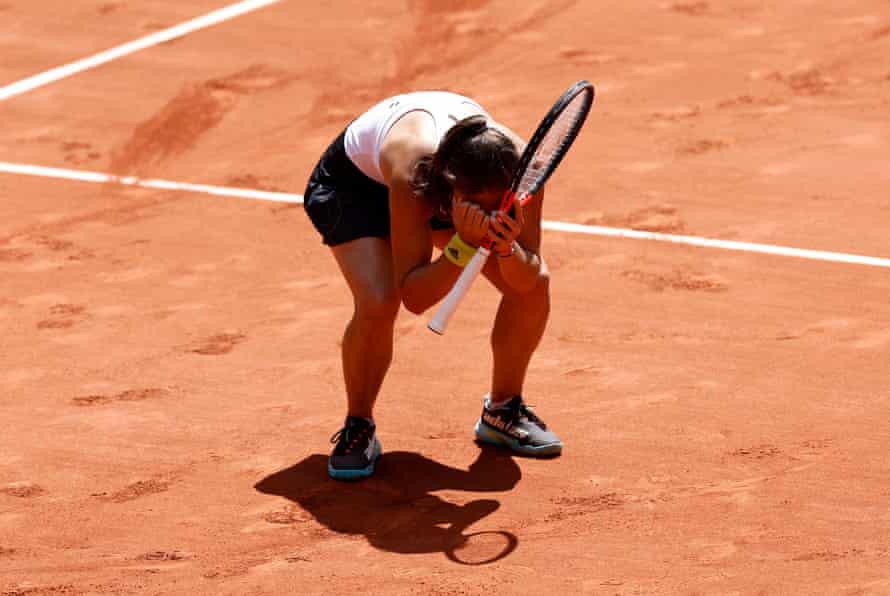 Kudermetova 4-6, 6-6 Kasatkina
The medical timeout is over, and happily Kudermetova looks unhampered by any issue. Kasatkina is suddenly serving to stay in the second set.
She double faults at 30-0 up, but gets the chance to hold thanks to another Kudermetova forehand that fails to find its range. Next up, a return goes long. It's tiebreak time!
Kudermetova 4-6, 6-5 Kasatkina*
Frustratingly for anyone hoping for a third set, Kasatkina races to 0-30 once more, then 15-40 and two more break points. Kudermetova saves both with a bit of brute force, but sends an attempted pass agonisingly wide, to offer up another. It's saved absolutely stunningly, with Kasatkina looking every inch the point's winner, but Kudermetova, sent wide, chops a crosscourt winner into open court.
She closes out the game, but there will be a brief break with Kudermetova calling for a trainer. Her left shoe is off, so I'm going to draw on my extensive medical knowledge and suggest there might be discomfort around her left foot area.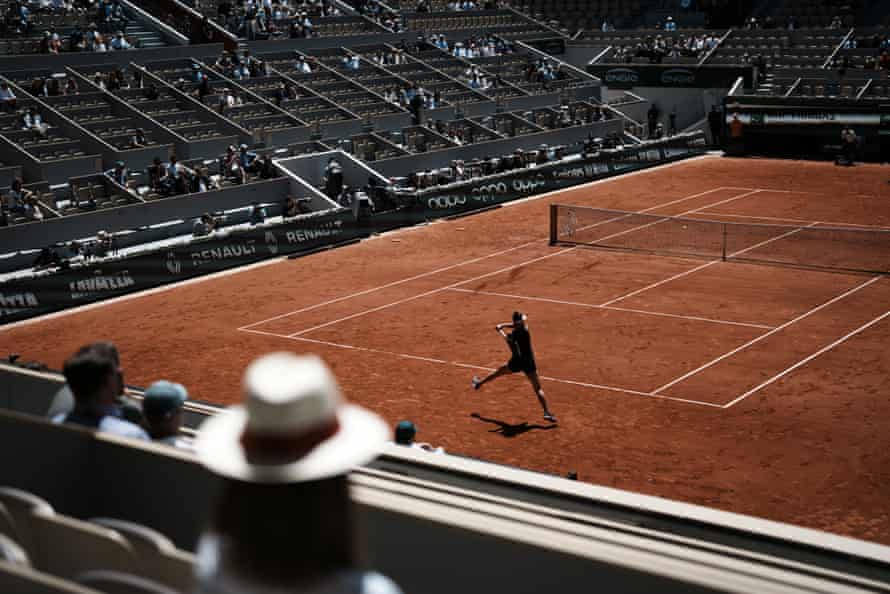 Kudermetova 4-6, 5-5 Kasatkina*
Kasatkina has been the smarter operator throughout, playing with a slightly casual air that hints there's more to draw on if things get dicey. But Kudermetova isn't giving in, and gets a sniff at 15-30 which she presses with a sumptuous crosscourt winner that stays low and give her opponent no chance. Almost improbably given the momentum of the match, she breaks! Brawn beat brains in that game, and keeps Kudermetova with us.
*Kudermetova 4-6, 4-5 Kasatkina
The pattern of the match as a whole has been Kudermetova throwing errors in at critical moments where she needs to push forward and keep pressure on her opponent. More mistakes see the scoreboard apologetically tick over to 15-40, but she serves strongly to save the first break point. She cannot save the second, and now has to break Kasatkina to stay in the tournament.
*Kudermetova 4-6, 4-4 Kasatkina
Kasatkina, a hold and a break away from victory, double-faults to go 15-30 down. She gets back on top thanks to a chopped drop shot from behind the baseline. Kudermetova shows the first signs of frustration but composes herself before – again – responding in kind to take the game to deuce.
And then a break point! Can she take it? Arrrgh … she immediately goes needlessly long to hand it back. It's nervy out there now, however, as Kasatkina double faults again, this time at deuce, and then the break is secured when she sends a return of her own long.
Kudermetova 4-6, 3-4 Kasatkina*
Kudermetova, realistically, must hold. She takes the initiative at 30-15 with a therapeutic smash, then slams a two-handed backhand winner down the line, and a Kasatkina serve-return into the net keeps the match alive.
*Kudermetova 4-6, 2-4 Kasatkina
Kasatkina eases to 30-0, and after a fine winner in response, she conjures a delicious passing shot down the line to go 40-15 up. Kudermetova ups the pace again and fights back to deuce, but gives up the game after another awful mistake, sending the ball needlessly wide with three-quarters of the court to choose from.
Kudermetova 4-6, 2-3 Kasatkina*
More glorious court-craft from Kasatkina, finding a drop shot from behind the baseline. At 30-15, Kudermetova tries one of her own, wrongfooting her opponent totally, and earns a rare bit of breathing space on her serve. Another double fault immediately makes things hairy … still, Kudermetova holds.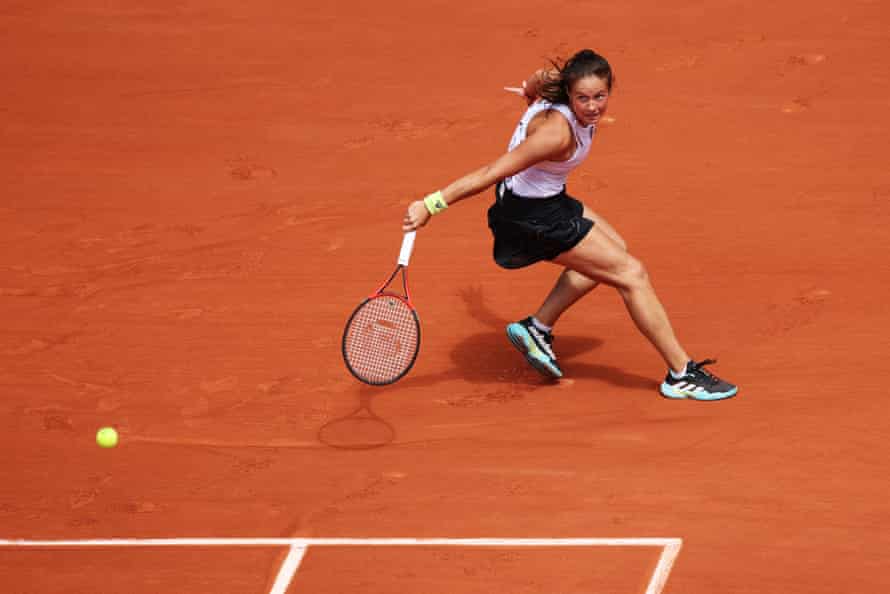 *Kudermetova 4-6, 1-3 Kasatkina
Kudermetova is chasing the match, but the extra weight behind her shots is only upping her error count. Kasatkina holds fairly comfortably to 15.
Kudermetova 4-6, 1-2 Kasatkina*
Another service game, another 0-30 scoreline. Despite the occasion, both players look impressively unruffled whatever their predicament, and – good lord – are these people having fun?
One thing to remind and reflect on: neither of these women will be allowed to grace Wimbledon this year following the All England Club's response to the invasion of Ukraine.
Kasatkina raises the fist again after forcing two more break points. Kudermetova saves the first well, then another … and a third. She then gifts the chance of a fourth with a double fault, but races round the court to salvage it, set up by a well-measured dink over the net. Next up comes possibly her point of the match, arcing a passing shot deliciously after a sliced effort down the line from Kasatkina.
A welcome advantage, but Kudermetova can't capitalise and goes just long. A fifth break point courtesy of an ill-advised leave, the ball over the top judged (correctly) to be just in, and the longest game of the match ends with a limp dab into the net. Another break.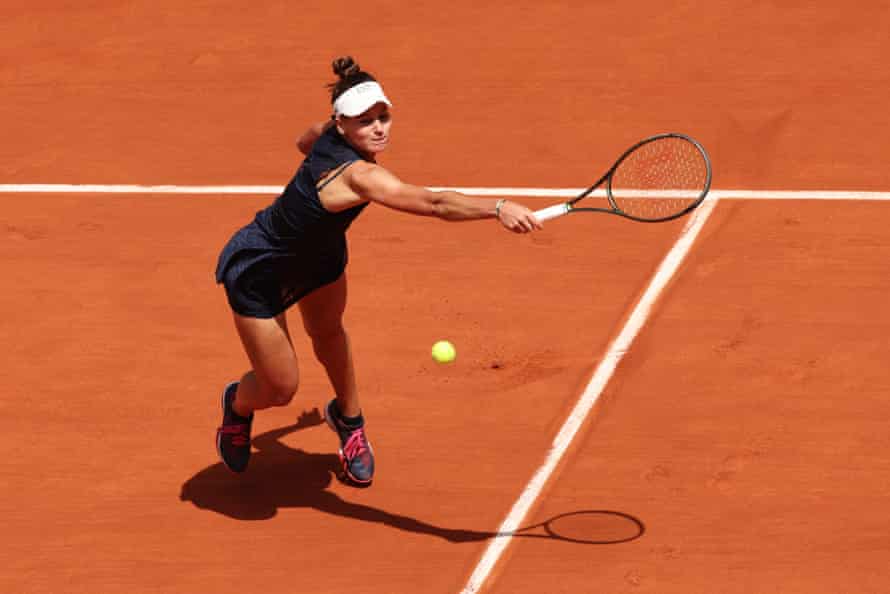 *Kudermetova 4-6, 1-1 Kasatkina
Kudermetova evidently lacks the box of tricks her opponent boasts but fights back immediately, pressing Kasatkina with sustained power. She quickly forces the game to 15-40 and is relieved to get back on terms in the set.
Kudermetova 4-6, 0-1 Kasatkina*
The pair have, technically, each won tournaments on clay, albeit both at the Charleston Open, which uses the lesser-regarded green variety, which plays faster, and somewhat closer to a hard court. Both look extremely comfortable on the Roland Garros surface, however, and after a brief pop off the court, Kudermetova re-emerges with a determined puff of the cheeks.
She quickly needs to rekindle her rhythm, however, as immediately she goes 0-30 down. Her ball-striking is more powerful, but more error-strewn, seemingly winning one point with a hefty hit and then losing two with mistakes. Two more break points, then – the first saved, the second handed back tamely.
A third is taken deliciously, Kasatkina finding the cross-court angle viciously with two hands to leave Kudermetova sprawling. The higher-ranked Russian is suddenly well on top.
Kudermetova 4-6 Kasatkina
And that's the set.
At 30-15, Kasatkina is forced wide and slams her attempted retrieval into the net post. She keeps her cool, however, looping the ball long to mix up the exchanges and forcing her opponent to hand over a set point.
That's saved after Kudermetova emerges on top of the rally of the match, but she immediately offers up another with another error, and follows it with a wild crosscourt thrash that goes yards wide. That's met with a wry smile from the erring Russian, who will now have to win in three to make her first grand slam semi-final.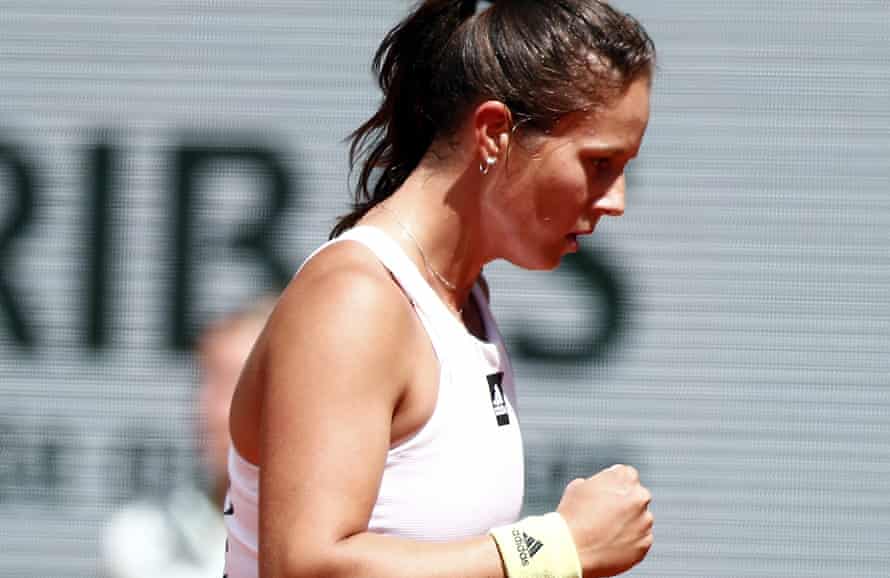 *Kudermetova 4-5 Kasatkina
More Kudermetova mishaps, not helped by a first serve percentage of 52%, make her sweat a bit at 0-30. At 15-30, she looks every bit like taking the point, and sets up what looks like a shoo-in with a delicious drop shot.
But no! She spanks it long and wide and hands over two more break points. Kasatkina doesn't need telling twice and wrongfoots her opponent with a sweet crosscourt forehand. The 20th seed, who looks like she may have another gear or two to call on, raises her fist and will now serve for the first set.
*Kudermetova 4-4 Kasatkina
The meagre early crowd is starting to bulk up a little, and have a decent, well-matched quarter-final to enjoy. Kasatkina races through her service game to love thanks to a string of errors from her compatriot.
Kudermetova 4-3 Kasatkina*
Two more break points for Kasatkina, and Kudermetova immediately invites pressure, missing with her first serve. The server comes out of a strong rally on top however, and then charges for the net and forces Kasatkina to attempt a lob, which falls just long.
Kudermetova is finding more winners in the extended exchanges, and after a couple of deuces, she forces her opponent into an error and is extremely relieved to hold.
*Kudermetova 3-3 Kasatkina
A good response from world No 29 Kudermetova … and she swiftly gets two more break points of her own. The first is saved wondrously as Kasatkina casually picks a low ball up from her shoe-buckles to tap over a drop shot. She then forces Kudermetova long to take the game to deuce, and Hawk-Eye agrees with her assessment that a viciously struck cross-court blast fell just wide. Honours even once more.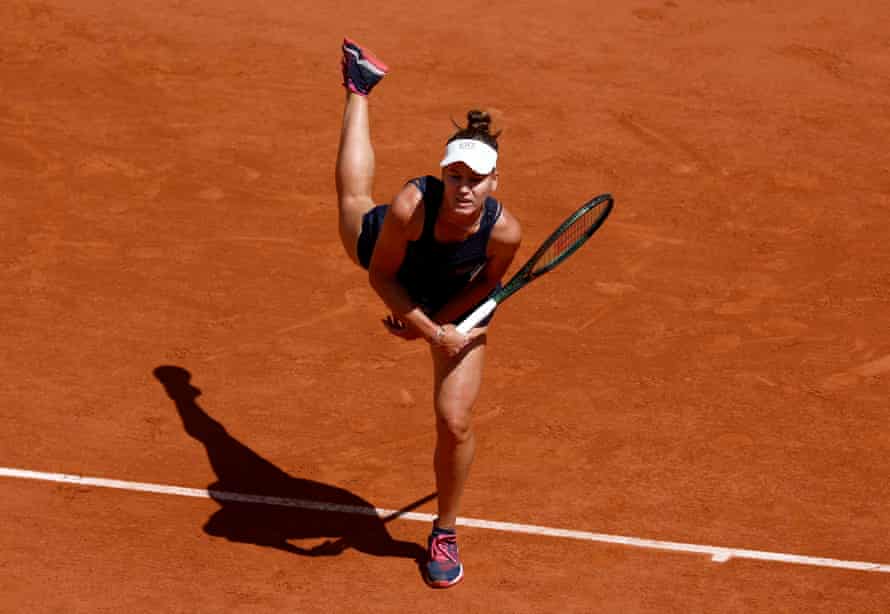 Kudermetova 3-2 Kasatkina*
Three aces now for Kudermetova, who is bouncing around court confidently. Both players are still exchanging errors fairly evenly, however, and a wild smash long hands Kasatkina two break points. She doesn't have to work to hard to get things back on serve either – another long forehand from Kudermetova makes it 3-2.
*Kudermetova 3-1 Kasatkina
Kasatkina goes 30-0 up and hops in frustration as a topspin return down the line falls just wide. Two errant forehand swipes then find the net to give Kudermetova the first break point of the match … and Kasatkina goes long to hand it over.
Kudermetova 2-1 Kasatkina*
These players already look extremely well-matched, and you can see why their sole previous meeting – in St Petersburg last year – went the distance. Still, Kudermetova secures another good hold with a fine crosscourt backhand that leaves Kasatkina putting the skids on to carve a pleasing groove in the clay.
*Kudermetova 1-1 Kasatkina
I realise now btw that artful second mentions for this pairing are going to be hard to come by, with both players aged 25 and Russian. Brace yourself for LOTS of surnames. Kudermetova goes 30-15 up but fires long during a range-finding baseline rally, with an early glance at a break seemingly beckoning. Kasatkina is finding the lines well, pressuring her opponent's forehand, and forces another error to level the scores.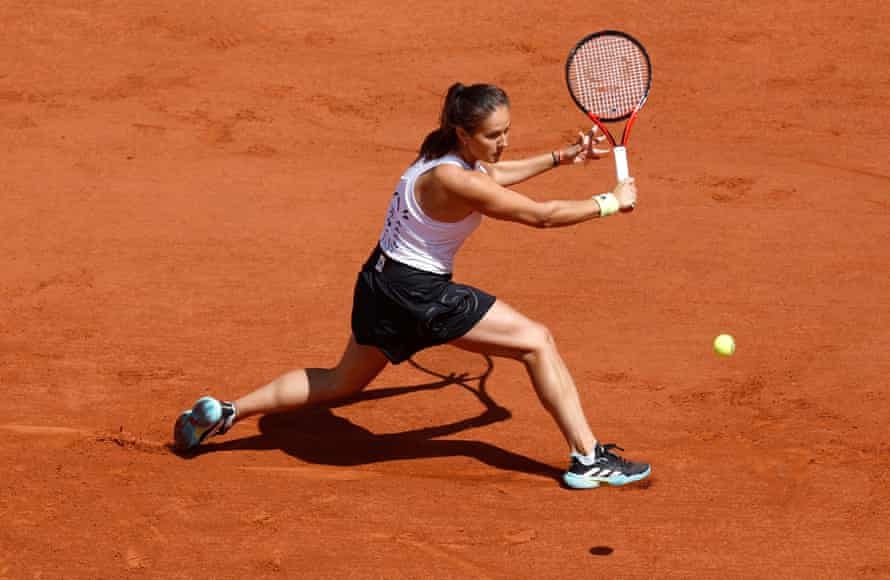 Kudermetova 1-0 Kasatkina* (asterisk denotes next to serve)
Predictably nervy opening stages see a couple of errors exchanged, but Kudermetova goes 30-15 up with a lovely drop shot, Kasatkina wisely opting against even vaguely trying to chase it. She closes out with an ace down the middle to secure the hold.
To get this far, Kudermetova has seen off two fellow seeds. She overcame 22nd seed Madison Keys in the fourth round, having lost the first set 6-1. This followed a curtailed third-round victory over Paula Badosa, who retired hurt with a knee injury three games into the second set while trailing 6-3, 2-1.
Kasatkina's sole seeded encounter came last time out against Camila Giorgi, who she impressively saw off 6-2, 6-2. In the third round she gave the dangerous Shelby Rogers similar straight-sets treatment.
The players are on court. In the women's draw, seeds have been falling quicker than when a hefty local pigeon swoops in to attack the bird feeder at the end of my garden. Swiatek is the only one of the top 10 remaining, with none of the other nine managing to progress beyond the third round.
We already have one unseeded semi-finalist in Trevisan, who will face 18th seed Gauff, while Pegula (11), Kasatkina (20) and Kudermetova (29) make up the remainder of the draw.
French umpire Kader Nouni is in the chair, and hitting up has commenced.
Players are due out on Court Philippe-Chatrier in just under 10 minutes. First up today, we are guaranteed a new grand slam semi-finalist, with 25-year-old Veronika Kudermetova already in uncharted territory, having never gone beyond the third round at a major tournament until this week. Four years ago, her fellow Russian Daria Kasatkina – also 25 – made the quarters but fell to eventual finalist Sloane Stephens.
The winner will take on the victor of Swiatek v Pegula, which immediately follows, in the semis.
Elsewhere at Roland Garros today … Gordon Reid and Alfie Hewett will be in wheelchair singles action, against Tokito Oda and Tom Egberink respectively. As a doubles partnership, the British pair are eyeing an astonishing 10 grand slam titles in a row.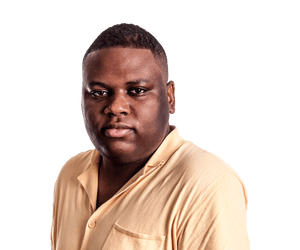 Tumaini Carayol
Today's play on Chatrier begins with two women's singles quarter-finals. Yesterday, Coco Gauff made her first grand slam semi thanks to victory over Sloane Stephens. She'll play Italy's Martina Trevisan, the world No 59, who was a surprise winner against 17th seed Leylah Fernandez as the young Canadian struggled with an injury to her right foot. Here's how Tumaini saw Tuesday's action …
Gauff and Stephens, 29, go back a long time. As Gauff was growing up surrounded by hype, Stephens watched as she grew from a precocious eight-year-old to an adult with ample experience on the tour. She would attend some of Gauff's birthday parties and they know each other's families well. Here they played with so much on the line. This pitted two of the very best athletes in the game against each other, but Gauff outworked Stephens in the numerous long rallies and remained solid as each tried to find a way through the other's defences. She served well when she most needed to and she brought Stephens forward with regular drop shots, demonstrating the variety that has become a central part of her game.
Most of all, Gauff struck her forehand as well as she has done in any of her big matches. Throughout her young career, Gauff's forehand has become a big target for all players, the aim to rush her elaborate swing with depth and pace, but it was Gauff frequently pushing Stephens back with her heavy topspin while constantly looking to dictate and finish points.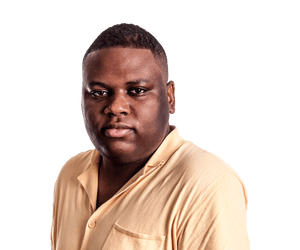 Tumaini Carayol
Earlier on Tuesday, Alexander Zverev saw off a threatened comeback by the massively in-form youngster, Carlos Alcaraz …
Between the phenomenon of Alcaraz's teenage breakthrough, the attempts of Novak Djokovic and Rafael Nadal to tread deeper into tennis's history books and even the opportunity presented to Stefanos Tsitsipas in the vacant bottom half, few have had much to say about Zverev.
But a player rises to No 3 in the rankings for a reason. On a cool evening at Roland Garros, he showed why, remaining rock solid against an erratic Alcaraz and snuffing out the surrounding hype as he won 6-4, 6-4, 4-6, 7-6 (7) to reach the semi-finals.
Alcaraz had started the match immediately trying to impose his brand of high-octane, all-court tennis. But despite his intensity, his timing was completely off. Unforced errors flowed freely from his forehand and backhand alike. Zverev was far more consistent. He soaked up the Spaniard's inside-out forehand with his own excellent backhand, which remarkably did not concede a single unforced error for two and a half sets. He served well, he pressed when needed and his historic weaknesses, his second serve and forehand, held up.
It genuinely was an extraordinary four-set match, running to the length of a five-setter. The first four games alone clocked in at well over 30 minutes, which set the tone. Guardian sport's print team were left sweating and chewing pencils as the clock ticked well beyond midnight, with print site workers and delivery drivers tapping their feet impatiently.
"It was a very tough match," Nadal said. "Novak is one of the best players in history without a doubt. Always to play against him is an amazing challenge. All the history that we have together, today was another one.
"To win against Novak, there is only one way: to play at your best from the first point to the last. Today it was one of those nights for me. An unexpected level but I am super happy.
"I am just enjoying every day that I have the chance to be here, and without thinking much about what can happen on the future. Of course I'm going to keep fighting to find a solution for [his problematic foot], but for the moment, we haven't. So just give myself a chance to play another semi-finals here at Roland Garros is a lot of energy for me."
In response, Djokovic said: "I know I could have played better I'm proud of fighting and staying till the last shot. As I said, you know, I lost to a better player today. Had my chances. Didn't use them. That's it. Over four hours' battle, and I have to accept this defeat."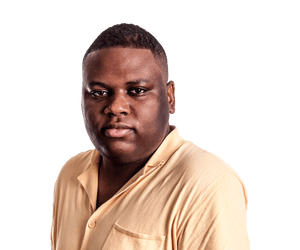 Tumaini Carayol
For those who had an early night, here's a taste of what you missed …
As the two greatest rivals in men's tennis convened at the French Open once more, plenty of factors pointed in favour of Novak Djokovic. While both he and Rafael Nadal had arrived in the clay court season full of uncertainty, only Djokovic had taken notable steps forward since. Nadal, meanwhile, still searched for his best form after his fractured rib. His preparation was complicated with a flareup of his chronic foot injury. His form in Paris was, so far, subpar.
But this is Rafael Nadal. At Roland Garros. He is the man who has won 110 times in his home with just three losses, who has shown over the course of his 17 years there that form and other frivolous trivia have little relevance in the face of total, unprecedented dominance. In a match that began in May and ended in June, Nadal blew Djokovic away in the opening stages, then absorbed multiple strong fightbacks and immense pressure before rising to win 6-2, 4-6, 6-2, 7-6 (4) after four hours and 11 minutes at 1.15am local time.
Read Tumaini's full report here …
Happy Wednesdays everyone! Just 10 short hours and seemingly just a dozen long blinks after John Brewin finally wrapped up on Rafael Nadal's victory over Novak Djokovic … the overnight Roland Garros goblins have done their thing to have Court Philippe-Chatrier back looking pristine for another day of quarter-final action.
Here's what's in store during today's daytime session:
Order of play

(first match 11am BST, seeds in brackets)
Veronika Kudermetova (29) v Daria Kasatkina (20)
Iga Swiatek (1) v Jessica Pegula (11)
Andrey Rublev (7) v Marin Cilic (20)
Night session, not before 7.45pm BST
Casper Ruud (8) v Holger Rune
https://www.theguardian.com/sport/live/2022/jun/01/french-open-2022-iga-swiatek-andrey-rublev-quarter-final-action-live