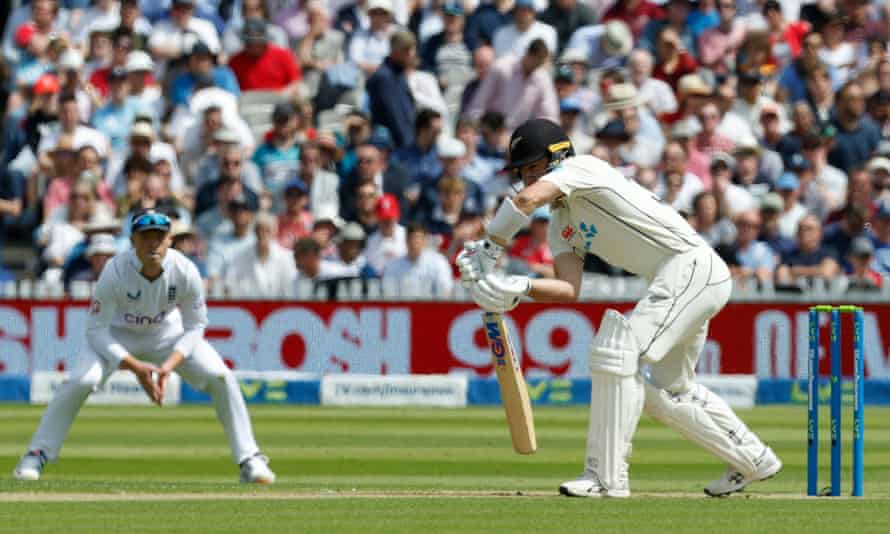 WICKET! Williamson ct Foakes b Potts 2 (New Zealand 12-4)
POTTS REMOVES WILLIAMSON TO TAKE HIS FIRST TEST WICKET! In his first over! That's a lovely moment. The England players swarmed round Potts to celebrate. A good delivery too, it pitched and left Williamson who got a slight edge that was very well scooped by Ben Foakes. Potts starts his Test career with a wicket-maiden. He takes his cap and wanders down to fine leg to rapturous applause. Drink it in young man.
9th over: New Zealand 12-3 (Williamson 2, Mitchell 5) Stop the press. Anderson goes for his first runs of the innings, a half-volley picked off through midwicket by Mitchell. Jimmy as displeased with going for runs as ever. Matty Potts is coming on to have his first bowl in Test cricket. The atmosphere ramps up a little more around the ground. What a moment for the young buck.
WICKET! Conway c Bairstow b Broad 3 (New Zealand 7-3)
Broad joins in the fun, inducing a thick edge from Conway that Bairstow (again!) takes well, low to the ground. Three nicks and three catches to Jonny B in the slips. Daryl Mitchell is the new man. England on top.
8th over: New Zealand 8-3 (Williamson 2, Mitchell 1)
7th over: New Zealand 7-2 (Williamson 1, Conway 3) Imperious Anderson. He sends down another maiden. Ball jagging both ways, Williamson getting a nick that falls short of Foakes. A real test for the Kiwi skipper this, he's not played a Test all year and is fresh back from the IPL. Anderson not letting him settle.
6th over: New Zealand 7-2 (Williamson 1, Conway 3) Williamson works Broad away for a single to get off the mark. Conway then angles him away through third and Jack Leach hares after the ball to the boundary – OUCH! Leach dives to drag the ball back and his shoulder gets jarred in the turf. That did not look nice. The medical team are straight over to Leach who remains prone on the turf. Ben Stokes grimaces as he looks on. Leach, eventually, is helped to his feet but he looks very ginger and goes straight from the field. Worrying for England and their spinner.
Bazball!
5th over: New Zealand 2-2 (Williamson 0, Conway 0) Dean Conway, scorer of a double ton here last year, is the new man. Anderson has been simply sublime. He's sent down three overs this morning, picked up both openers and not gone for a single run.
WICKET! Tom Latham c Bairstow b Anderson 1 (New Zealand 2-2)
Chalk it up. Anderson has another! Another nick, again it goes to Bairstow in the slips, who spills the first attempt but then swoops low to clutch the ball before it hits the turf. England cock-a-hoop.
4th over: New Zealand 2-1 (Latham 1, Williamson 0) Latham gets off the mark with a glance, another slightly risky single that results in a direct hit but Williamson has made his ground at the non-striker's end. Lord's looks a picture and, dare I say it, there is plenty of the oft-mentioned prattle and hum. It looks pretty full … more on that later.
3rd over: New Zealand 1-1 (Latham 0, Williamson 0) Kane Williamson arrives at the crease and Anderson doesn't give him an inch, joining the dots. A wicket-maiden for auld Jim.
WICKET! Young c Bairstow b Anderson 1 (New Zealand 1-1)
WHAT A GRAB! Anderson gets one to take Young's edge and Jonny Bairstow pulls off a fantastic catch low to his left at slip. A proper pouch that! The England players Jubilee-ant (sorry). Anderson has his 641st Test wicket in textbook style.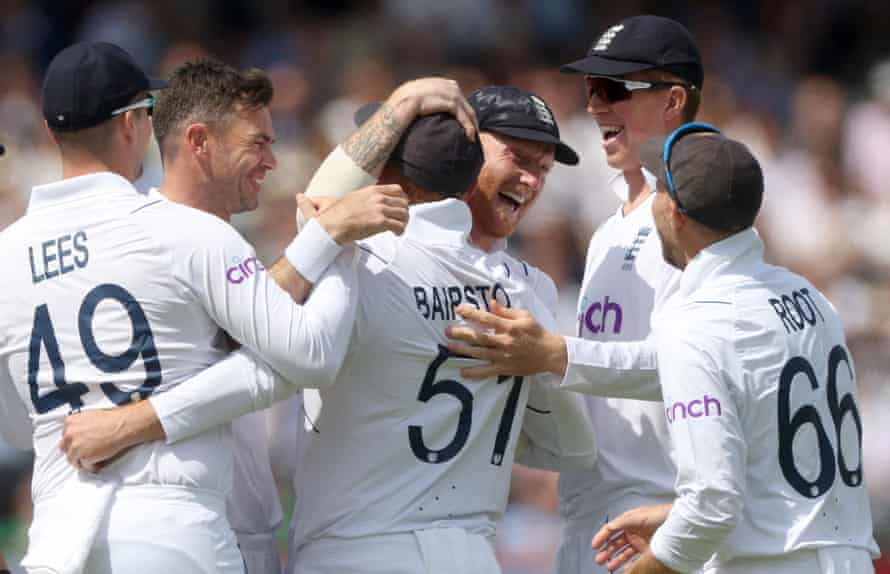 2nd over: New Zealand 1-0 (Latham 0, Young 1) Will Young (not that one) gets off the mark to Broad's second ball with a scampered/risky single. Broad is bang on the money too. Just one from the over. Proper criggit.
1st over: New Zealand 0-0 (Latham 0, Young 0) Anderson starts with five slips and bowls a couple of beauties first up. In fact he sends down a lovely first over. Probing and accurate. A maiden. Like he's never been away. Tom Latham is watchful, respectful. We're under way!
We've had the anthems and the players are heading to their positions.
Exciting this. We're about to get under way. I've had a few requests for an overseas TMS link, if anyone has one then do bung it over and I'll share. Thanks!
Jimmy Anderson will steam in once again in a few minutes, his 26th Test match here at Lord's. Remarkable.
Imagine being him right now. Imagine…
Dean Kinsella has the first email to plop into the inbox and he's feeling strange.
"The first morning of the first Test of summer and that old flippity-flop feeling in my belly. A feeling of … is it hope?" It could well be, Dean.
FYI, it has gone a little bit cloudy at Lord's, I'm saying no more than that. Other than that, Broad (complete with headband) and Anderson are bowling some warm-up deliveries on the outfield.
Andy Bull gets stuck in:
There are about 15 minutes until the start of play. Time for you to get stuck into a bit of pre-match reading. Here's Ali on the new dawn …
England will start with the ball in hand and we'll get an early look at Test debutant and gun bowler of the early knockings of the County Championship – Matty Potts.
A nice touch from a blazer-less Stokes at the toss
New Zealand have won the toss and will bat first!
England: Crawley, Lees, Pope, Root, Bairstow, Stokes, Foakes, Potts, Leach, Broad, Anderson.
New Zealand: Latham, Young, Williamson, Conway, Mitchell, Blundell, de Grandhomme, Southee, Jamieson, Patel, Boult.
A New Dawn Has Broken Has it Not?
Things can only get better?!
Hello and welcome to Lord's for the first day of the first Test of the summer. It's a glorious day in north-west London, sun glinting off the orange-hued pavilion, light breeze rustling the inner city oaks. A perfect day to get cracking on a red-ball reset to end all red-ball resets.
It's time for the Baz n' Ben (and Bob) show to begin. It should be fun.
Jim here at HQ to take you through the first part of the day, I can currently see the England players going through their warm-ups in their muted-grey Squid-Game inspired tracksuits. Hopefully the next five days will be slightly less bloody than that. Their opponents, New Zealand, are good, very good; the current world Test champions, albeit they are currently a little undercooked. Still, England have only won once in the last 177 Test outings. But it's a new dawn, a new day and I'm feeling … nervous, but optimistic.
On the way in to the ground this morning I passed Kane Williamson having a net and Sir Alastair Cook got into my lift up to the media centre. Make of that what you will – but I'm taking it as a sure sign it is a batting morning … from my elevated but idiot's perspective, the pitch looks to be custard-coloured but flecked with a tinge of green.
I'll bring news of the toss and teams (we already know England's and their batting order) as soon as. Time to hit the coffee stand and tool up. Do get in touch on email or on the twitters, there's plenty to discuss.
https://www.theguardian.com/sport/live/2022/jun/02/england-v-new-zealand-first-test-day-one-live-score-updates-cricket