Bronte Law draws a stunning approach into 17. She leaves herself with a ten-footer for birdie, and steers it in to become only the fourth player today to make one at the hole. She rises to -5 … but her playing partner Lydia Ko comes the other way. It looks as though she's saved her par at 17 with a long bunker shot to four feet, but she can't make the putt and drops to -6.
-14: Lee (16)
-9: Harigae (16)
-7: Choi (F)
-6: JY Ko (F), L Ko (17)
-5: Law (17)
A three-putt bogey for the leader Minjee Lee at the par-three 16th. It's a mistake unlikely to be particularly costly, as she still has a five-shot lead over second-placed Mina Hairgae, who makes a two-putt par. It probably does mean she won't be equalling the tournament record for score to par, set at -16 by Juli Inkster in 1999 and Ariya Jutanugarn in 2018.
-14: Lee (16)
-9: Harigae (16)
The world number one, Ko Jin-young, is in with a level-par 71. A slightly undercooked performance rescued by those birdies at 15 and 17. Plenty of wins on the LPGA Tour for the 26-year-old from Seoul, but no major since the Dinah Shore and Evian in 2019. This will be her highest finish in any major since coming second in this competition in 2020, though, signs she might be about to slake her major thirst soon. Congressional in three weeks' time? She ends this one at -6.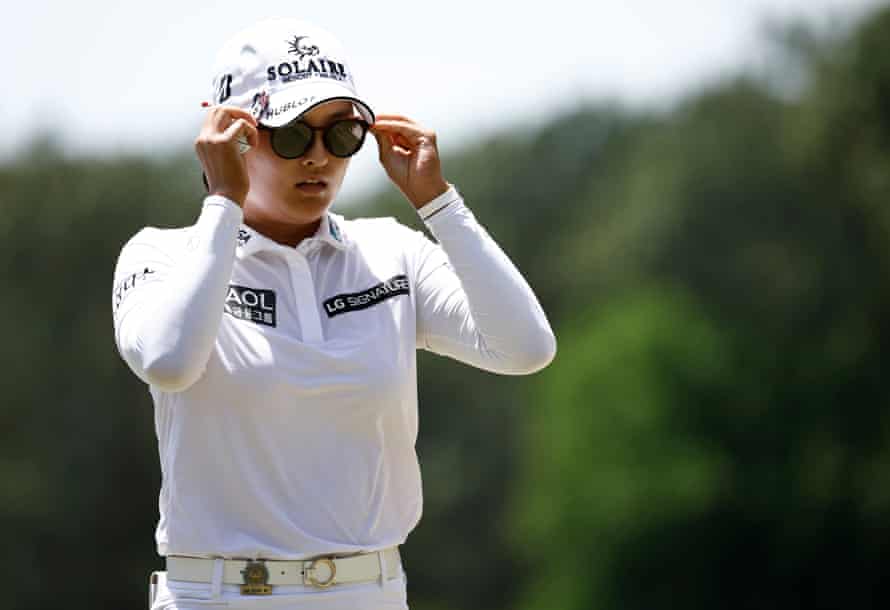 Mina Harigae plays the par-five 15th in textbook fashion! Two big cracks down the middle, a fearless wedge to four feet, and a putt straight into the centre of the cup. She's suddenly alone in second spot, two clear of the aforementioned Choi Hye-jin and Lydia Ko, who does well to scramble par at 16 by getting up and down from sand. Birdie too for the runaway leader Minjee Lee, incidentally. Her coolness under the pressure of defending a big lead, one everyone expects you to convert, isn't even news any more.
-15: Lee (15)
-9: Harigae (15)
-7: Choi (F), L Ko (16)
A bogey at the last for Choi Hye-jin, the punishment for a weak chip up from the back of the green. She pushes the 12-foot par putt that remains, and she signs for a one-under 70. Finally, another round in red figures! Only the second of the day so far, after Jeongeun Lee6's 69. She's the new clubhouse leader at -7. Her playing partner Leona Maguire returns a disappointing final round of 74 and ends the week at -2.
The world number one Ko Jin-young is finishing in style! Having picked up a stroke at 15, she's now sent a tramliner into the cup from silly distance at 17. She raises both arms in the air, suddenly sensing a higher finish than she might have expected an hour ago … and fourth spot is suddenly within reach after her namesake Lydia's bogey at 15. Birdie for Bronte Law at 15, meanwhile, and suddenly there's been a bit of movement at the top of the leaderboard. Not the very top, but you get the gist.
-14: Lee (14)
-8: Choi (17), Harigae (14)
-7: L Ko (15)
-6: JY Ko (17)
-5: Law (15)
The reigning Olympic and PGA champion Nelly Korda is the new clubhouse leader. She won't be winning today, but having been three over for her round today through 6, she's played the final 12 holes in one under. A 73, and she smiles broadly, just pleased to be back after the long lay-off due to the blood clot in her arm. She finishes the week at -2, and don't bet against her retaining her PGA title at Congressional in three weeks' time!
Tell you what, though, Harigae very nearly breaks that duck with a wonderful splash out of the sand. Her wedge batters the sand with a satisfying thwack, and the ball skirts the right-hand lip of the cup. Millimetres from that elusive birdie! Lee also splashes out close, although never threatening to hole out. Two fine sand shots from tricky positions. In go the putts for par. The 14th has really done a number on the field today.
-14: Lee (14)
-8: Choi (17), L Ko (14), Harigae (14)
-5: JY Ko (16)
No birdies today on the par-four 14th. Not one! It's a statistic likely to be maintained as the last pair make their way down the hole: both Lee and Harigae have pushed their approaches into the bunker guarding the front right of the green.
… meanwhile on the par-three 16th, Choi Hye-jin knocks her tee shot to five feet, and confidently rolls in the birdie putt. She's already got a second-place finish at the US Open on her resumé, albeit as a 17-year-old amateur in 2017. A second spot as a professional this time? It's currently on!
-14: Lee (13)
-8: Choi (16), L Ko (14), Harigae (13)
-5: JY Ko (15)
Lee pulls her tee shot at the difficult par-three 13th down a warped slope to the left of the green. She bumps up, but not particularly close. Harigae however has sent a very aesthetically pleasing draw into the heart of the green, the camber offering some additional help in gathering the ball to 12 feet. She doesn't quite hit the birdie putt, which breaks to the right as the pace dies. Par, but the chance to close the gap at the top – and more realistically, regain sole ownership of second spot – is gone. Lee rolls in a very missable ten footer to save yet another par, and she jogs off to the next tee, high on life.
Mina Harigae rocks back on her heels in irritation as a 15-foot birdie attempt slides by on 12. The jig is almost up, surely, because Minjee Lee then tickles in a left-to-right curler, dead weight, for birdie. The gap is suddenly six. Meanwhile emotional scenes on 18 as Lexi Thompson, forced to revisit her collapse last year in so many interviews, and whose grandmother passed a couple of weeks ago, finishes with bittersweet birdie and dissolves into tears. For so many different reasons, she'll be pleased to get this tournament out of the way. A 76, and she finishes at +3. A par-par finish thankfully for her playing partner Lilia Vu. Back in 44 painful lashes for 79, and at least she avoided carding 80. Once -5, she ends the week at +6.
-14: Lee (12)
-8: Ko (13), Harigae (12)
-7: Choi (15)
The wind drops, and that allows Lee to wedge into 12 with confidence. She leaves herself a six-foot look at birdie that will surely close the door on the field. Having said that, Lydia Ko becomes only the second player to birdie the par-three 13th, rolling in a gentle left-to-right 20-foot slider, and suddenly she's within five and in a share of second.
-13: Lee (11)
-8: Ko (13), Harigae (11)
-7: Choi (15)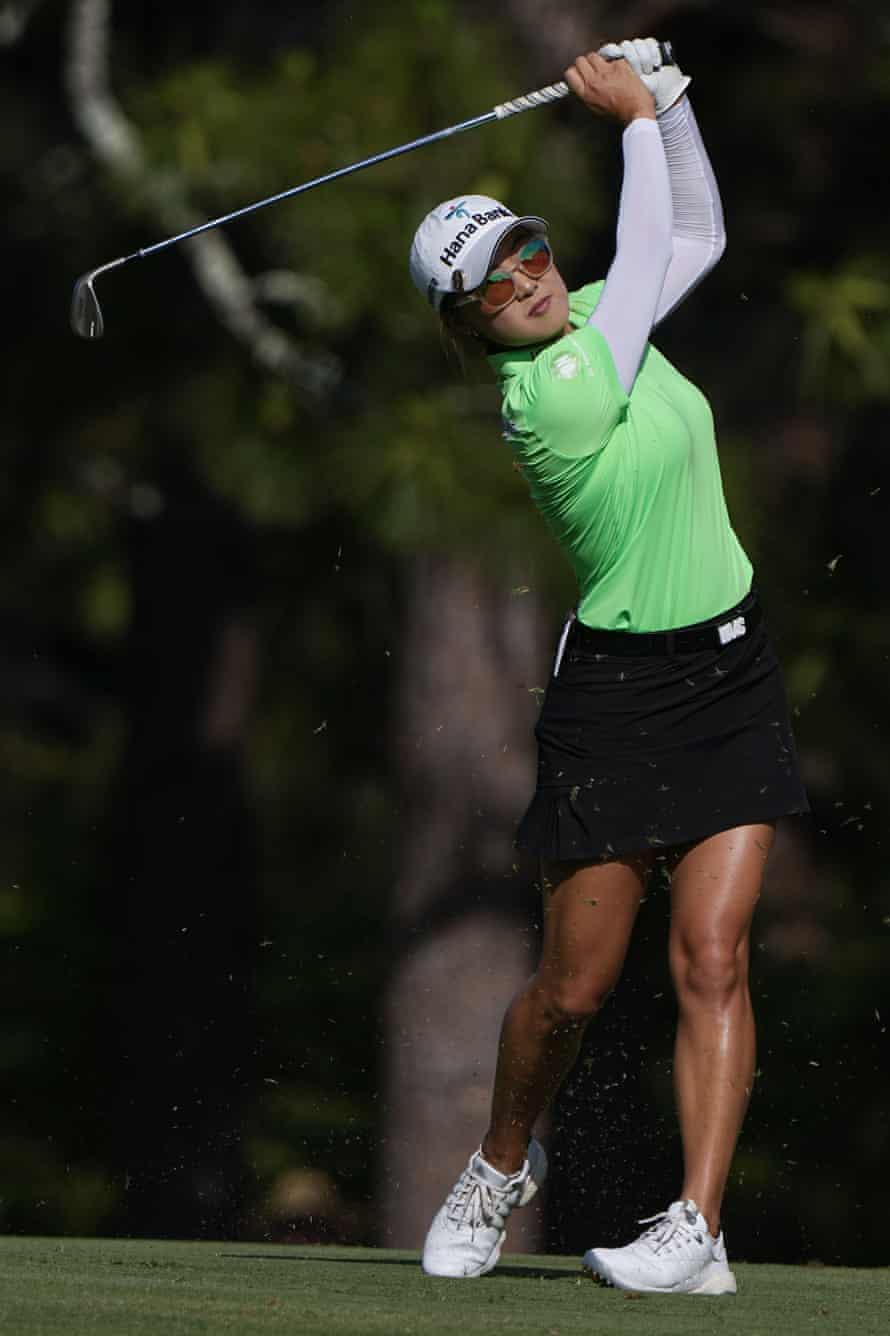 The USGA really have set up the course in a sadistic manner today. Sunday at the US Open, right here! Jeongeun Lee6 is still the only player back in the clubhouse with a round in red figures. Her two-under 69 is looking more and more astonishing as each pairing makes their way in. All of which puts Minjee Lee's street-fighting pars on 10 and 11 into sharp relief. To remain at level par for her round today, with so much at stake and a big lead to defend, is no mean achievement.
Lee pulls her second into 11 down a swale to the left of the green. She opts to putt rather than chip, and does a pretty good job of ramming her ball back up the hill to five feet. She rattles her par putt into the cup. But Harigae can't get up and down from the front, and at -8, just one clear of Choi and Lydia Ko, she's now in danger of losing second spot. This could be costly, because look at the prize breakdown!
1. $1,800,000
2. $1,080,000
3. $685,043
4. $480, 225
5. $399,982
Lilia Vu's nightmare end to this US Open continues apace. We last encountered her shipping seven shots in five holes between 9 and 13. Now she's dropped another four in two, following up a triple-bogey eight at 15 with bogey at 16. She's now +6, having been -5 a couple of hours ago. A very expensive back nine, especially when you consider the $10m purse on offer here this week.
Harigae chips up to six feet, then nails the par putt. She walks off, relief etched across her face and betrayed by a sharp puff of air. Lee meanwhile lags up sensationally from 50 feet and tidies up for her par. This is no longer about moving forward; it's all about not moving backwards. Yesterday's average round was 72.7, but today's is 75.5 and that's a number that won't be getting any smaller, I'll be bound. Meanwhile bogey for Ko Jin-young, and this is all about the top four now.
-13: Lee (10)
-9: Harigae (10)
-7: Choi (13), L Ko (11)
-4: Nordqvist (13), JY Ko (13), Law (11)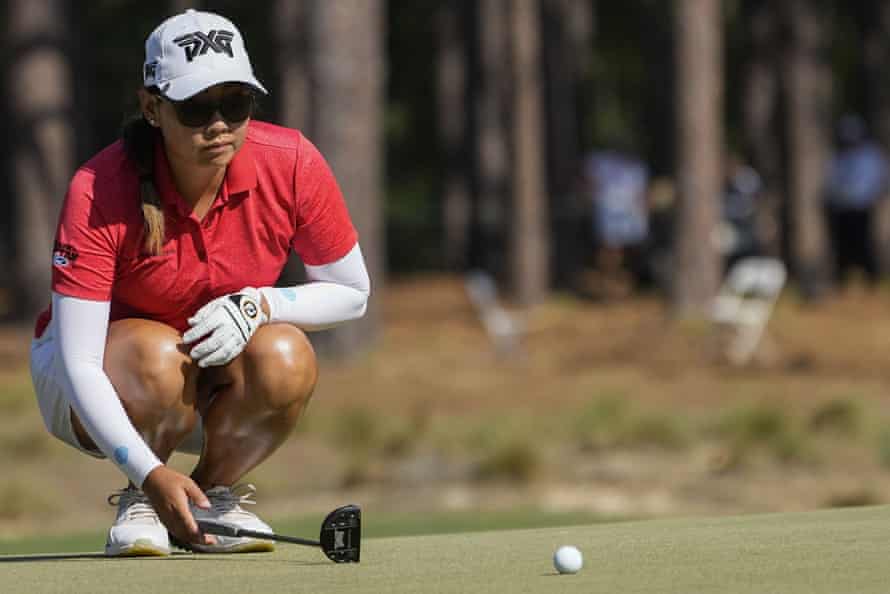 Harigae clips a branch with her wedge in from 70 yards. This is super careless. Her ball reaches the front of 10 but topples back off the false front and away down the fairway. Lee meanwhile whips her ball out of some dead weeds, gets a hot one, and only just holds the green, a good distance from the flag. A couple of big up-and-down attempts coming up. Meanwhile an overly aggressive putt from Choi Hye-jin at the par-three 13th leads to the 22-year-old's first bogey of the day. She slips to -7.
Yep, Harigae lays up … and makes the cardinal sin of finding more rough with her second. She'll have trouble generating all the spin she wants from there. The door swings open for Lee, who is able to attack the green with a fairway wood … but she pulls it and sends her ball down a swale back and to the left of the dancefloor. The ball scuttles into a native area and next to another tuft of that pesky wiry grass. Par looks the most likely score for both players all of a sudden.
Welcome to the start of the 2022 US Women's Open! Yep, the final pairing has hit the turn on Sunday, so here we are at the get-go! Mina Harigae flirts with trouble down the left of the par-five 10th, but her ball snags in the semi-rough. Minjee Lee splits the fairway. This hole has given up a couple of eagles today – to Pajaree Anannarukarn and Moriya Jutanugarn, a Thai double whammy – and what Harigae would have given for one of those right now to eat into Lee's lead. But she'll have to lay up from the rough.
What a two-putt par for Minjee Lee on 9! She only just finds the front of the humungous green, and races her monster putt eight feet past. The ball nearly reaches the slope at the back, but, like Frank Costanza, stops short. She rattles in the one coming back, a fearless act that she celebrates with a clenched fist and a quiet yessssss! That took some nerve. Two putts for Harigae's par as well.
-13: Lee (9)
-9: Harigae (9)
-8: Choi (12)
-7: L Ko (10)
It's fair to say that Pine Needles is playing like a proper US Open course today. Over three hours ago, this blog reported 2019 winner Jeongeun Lee6's 69. That's still the only round completed under par today! All hail Donald Ross – also architect of nearby Pinehurst – and his hellishly difficult greens.
It's not Lexi Thompson's day at all. Having played the front nine in one-over 36, she's followed up with double bogey at 10 and another at 14. She's tumbled down the rankings to +3. Thompson and playing partner Lilia Vu have been dragging each other down, it would seem: after Vu's fine start, three under through 8, she's tripled 9, doubled 10 and doubled again on 13. That's seven shots gone in five holes. She's +2. A low-energy pairing, right there.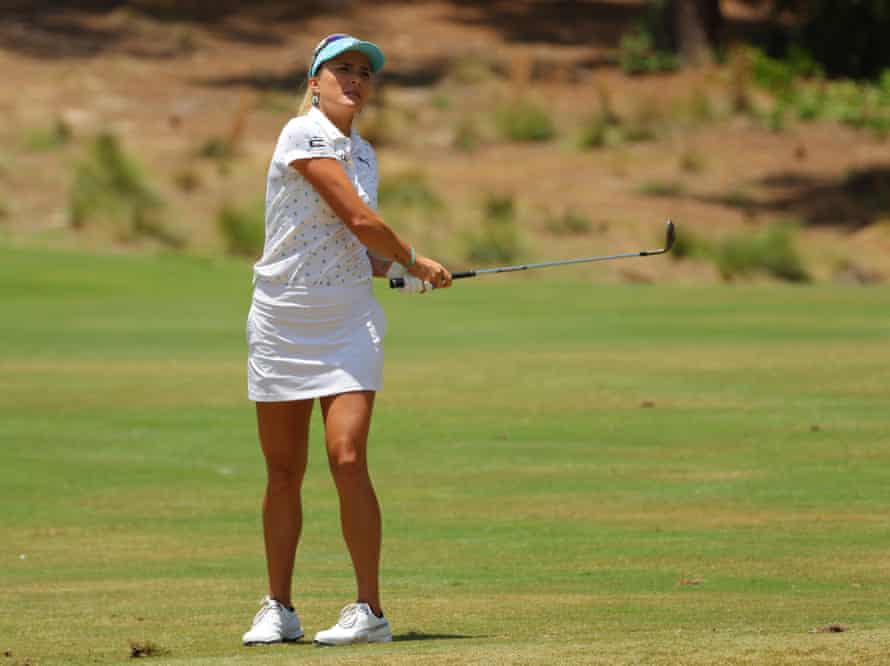 Harigae races her birdie putt three feet past. Lee's eyes light up – an opportunity to restore a five-shot lead! – but she pulls her plumb-straight birdie effort. She walks away, disappointment obvious for the first time today. Harigae makes her one coming back to save par. Meanwhile bad news for the Swedish contingent as Anna Nordqvist bogeys 10 and the amateur Ingrid Lindblad three-putts 9, the pair slipping out of the top five to -4.
-13: Lee (8)
-9: Harigae (8)
-8: Choi (11)
-7: L Ko (8)
-5: JY Ko (10)
What a response by the leader to that two-bogey wobble! Lee crashes a drive 250 yards down the middle of 8, then wedges gracefully over the flag, her ball quietly landing and spinning back to six feet. Harigae, from a similar position, pulls her sand wedge and though she's pin high, her shoulders slump as she's left with a 25-footer across the green. This isn't quite a must make, but with Lee threatening birdie, it's kind of close.
… but it really is a long two-putt for par. From the fringe on the left, Lee's faced with a 50-footer that swings left to right generally, but snakes a fair bit en route, and goes over a hump to boot. She leaves her first one seriously short. Fifteen feet short. Her attempt to save par lips out, and she's back to where she started her round. Her lead isn't diminished, though, because Harigae leaves her wedge in 20 feet short, then misses the putt an alarming distance long and to the left. She makes the one back to limit the damage to bogey. The pressures of major-championship Sunday beginning to tell.
-13: Lee (7)
-9: Harigae (7)
-8: Choi (9)
-7: L Ko (7)
-5: JY Ko (9), Nordqvist (9), Lindblad -a- (8)
Turns out Lee's ball isn't behind the tuft of wire grass … but to the side of it, which means the shaft of her club will swish through it as she makes her downswing. No bother! She powers through, and though the club is always going to turn a little to the left, she still sends her ball onto the green. She'll face another long two-putt for par, but just as on 6, she'll have taken that upon hitting a wayward drive.
Up on the green, it's not good news for the penultimate pairing. Bronte Law flies a wedge over the green, and runs up a painful double bogey. She crashes back to -4. Law's approach spooks Lydia Ko, who leaves her chip short. She can't make the par saver and slips back to -7. No ANA Inspiration-style Sunday charge from the New Zealander, then.
Lee's driver is beginning to misbehave. This time, at 7, she sends her tee shot into the native area on the right … and once again she'll face a tense journey to find out the fate of her ball, which appears to have nestled behind another large tuft of wild grass. She got lucky last time, when she was able to manufacture a shot to the green. This time?
Lee is left with a monster 60-foot putt. She lags it up to three feet, and tidies up for a superb par in the circumstances. Harigae meanwhile makes it three up-and-downs in a row from the bottom of a greenside bank. The gap at the top remains four, and the 32-year-old Californian simply refuses to go away.
If Minjee Lee was getting worried as she walked up to discover the fate of her drive, she didn't betray her emotions. She calmly draws a wedge from her bag, then powers her ball through the awkward tuft in front it and onto the green. She's left with a long two putts for par, but she'd have certainly taken that a couple of minutes ago.
Has that bogey awakened a few previously dormant nerves in Minjee Lee? She pulls her tee shot at 6 into the native area running down the left of the fairway, and her ball stops behind a large tuft of wild grass. It's not clear whether she'll be able to get through that and find the green. Meanwhile elsewhere, some big names going the wrong way. Another bogey for Bronte Law, this time at 6, and she's -6. Xiyu Lin compounds her opening bogey with back-to-back dropped shots at 5 and 6; she's -3 and resigned to jostling for place. Bogey for the world number one Ko Jin-young, who hands back the shot she picked up on the opening hole; she's -6. And it's been a nightmare front nine for Leona Maguire, Megan Khang, Moriya Jutanugarn and 2009 winner Ji Eun-hee, who are all three over for their rounds so far and -2 overall.
The leader gives a little something back to the field. Lee whips up from the bottom of the bank at 5 to eight feet, but the par saver is always destined to slide by on the left. The 5th was her only bogey yesterday; she'll be hoping that stat repeats today. Harigae meanwhile lobs high out from the bunker to four feet, and that's a second marvellous up and down in a row. This is seriously impressive determination from a player who has never finished in the top ten at a major.
-14: Lee (5)
-10: Harigae (5)
Now then. Choi Hye-jin rattles a carpe-diem birdie putt into the cup from 15 feet at 7. It's her second birdie of the day, and she joins Lydia Ko in third spot at -8. Meanwhile back on the par-three 5th, Minjee Lee makes her first big mistake of the day, her tee shot fading off down a swale to the right of the green. The door's slightly ajar for Mina Harigae, but she sends her tee shot into the bunker guarding the front right. Elsewhere, Bronte Law has repaired the damage of that opening bogey with birdie at 4, and so the top five looks like this …
-15: Lee (4)
-10: Harigae (4)
-8: Choi (7), L Ko (5)
-7: Law (5)
Corrections and clarifications dept: Lee's birdie putt on 4 is more like 25 feet, and she leaves it three short. She remains unflappable, however, and tidies up to remain at -15. Harigae is equally staunch, screeching an aggressive chip from the front of the green to a halt, two feet from the flag. A magnificent par scramble, a must-make in the circumstances. The gap remains five at the top.
-15: Lee (4)
-10: Harigae (4)
Minjee Lee could be a dot on the horizon soon. Mina Harigae's second into 4 finds the green, but only just, her ball slowly toppling back off the false front and a good 30 yards down the fairway. She'll have work to do if she wants to salvage her par. Meanwhile Lee responds by whipping her second pin high, 15 feet left of the flag. Her ball momentarily threatens to dribble off down a bank, which would gather it into a bunker, but it stubbornly remains on the green. The small margins between success and failure for both players, right there.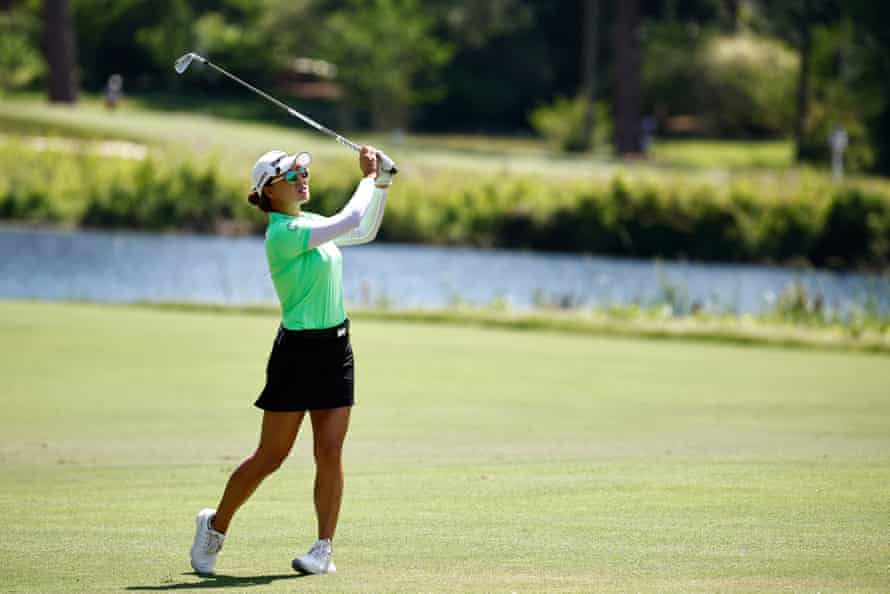 Only two players have ever made it to -16 at a US Women's Open: Juli Inkster in 1999 and Ariya Jutanugarn in 2018. Minjee Lee isn't too far away from becoming the third, wedging at the short par-three 3rd to ten feet and very nearly making it three birdies from three. Her putt doesn't drop, though, and she remains at -15.
Perhaps Lydia Ko could make a break from the chasing pack? She's got form, after all, having shot a final-day 62 at the Dinah Shore last year to nearly steal the title from Patty Tavatanakit, who had looked home and hosed going into the last round with a five-shot lead (and an eight-stroke lead over Ko). There was just two in it by the end. Anyway, Ko is this close to acing with a wedge at the super-short par-three 3rd, and taps in for her second birdie of the day. She moves into third spot at -8, all on her own.
This probably doesn't sell this blog too well, but it needs saying anyway: the 2022 US Open already looks in the bag for Minjee Lee. She doesn't quite catch her second into 2 flush, her ball only just making it onto the dancefloor. But she's strolling around imperiously, a study in the supercool that's necessary to become a top-drawer sporting superstar. She lines up the lightning-fast 30-foot right-to-left slider she's left herself … and rolls it over the ridge running down the middle of the green and into the cup! No fuss. With her playing partner Mina Harigae only making par, Lee's overnight three-shot lead is suddenly five.
-15: Lee (2)
-10: Harigae (2)
A fine par scramble for Lydia Ko on 2. Her tee shot nearly finds all sorts of sandy bother down the left of 2. Fortunate that she isn't plugged under the lip, but still balancing precariously on its top, she manages to punch her second up to the apron, then nearly holes the lengthy putt for birdie! The ball horseshoes out, though she's more than happy to be tapping in for a par she'd have grasped with both hands when her tee shot was sailing off towards trouble. The former Dinah Shore and Evian champion remains at -7.
Eagle-eyed leaderboard enthusiasts will have spotted Choi Hye-jin popping up at -7. Choi came very close to winning this title in 2017 as a 17-year-old amateur, only to find water at the par-three 16th while tied for the lead on Sunday at Trump National. Her compatriot Park Sung-hyun lifted the silverware instead. Birdie at 4 puts Choi into a tie for third today. Speaking of Park – which we were, just over an hour ago – her promising final round has fallen apart with two double bogeys in a row, at 15 and 16. In short order, a three-under round has turned into a one-over nightmare, and the 2017 champ drifts out to +3.
An opening statement of intent by Minjee Lee! She creams her second into the heart of the par-five 1st, and while she can't make the subsequent 25-foot eagle putt, it's a tap-in birdie that immediately hoicks up the pressure on her playing partner Mina Harigae, who lays up then wedges to ten feet. Suddenly it feels like a must-make birdie putt, and she nervously pushes it to the right. No leads are insurmountable with 17 holes still to play, but things suddenly look that much more difficult for Harigae and the chasing pack, and even brighter for Lee!
-14: Lee (1)
-10: Harigae (1)
-7: Choi (4), JY Ko (3), L Ko (2)
Nelly Korda, the reigning Olympic and PGA champion, has suffered a tough start. Bogeys at 3 and now 5, and any faint hopes she had of taking a wild tilt at the title are well and truly kaput. She slips back to -2 and wafts her badly behaved putter around in frustration.
The last match takes to the 1st tee! Mina Harigae, chasing her first LPGA Tour victory, never mind her first major, cracks one down the middle. The leader Minjee Lee follows her. Meanwhile mixed fortunes up on the green. Lydia Ko opens with birdie, reward for rolling in a ten-footer, but Bronte Law pulls her third carelessly into the bunker guarding the left of the green, then, shortsided and overly delicate, takes two to get out. A bogey for Stockport's finest. She slips back to -6.
-13: Lee
-10: Harigae
-7: JY Ko (3), L Ko (1)
-6: Choi (3), Nordqvist (3), Lindblad -a- (1), Law (1)
-5: M Jutanugarn (5), Khang (4), Ji (4), Lin (1)
-4: Vu (5), Maguire (3)
From the centre of the par-five 1st, Xiyu Lin sends her second into the big bunker lining the right of the fairway. Her third ends well short of the green, and she ends up with an opening momentum-bothering bogey. The 26-year-old from China, whose best finish at the US Open was a tie for seventh at Olympic last year, slips back to -5 and trudges off the green disconsolately. Her playing partner today is the 22-year-old Swedish amateur Ingrid Lindblad, who announced herself bigstyle with that opening-day 65. She does well to make par after mishitting a chip from the front of the green, and remains at -6.
The upwardly mobile Vu is going round today with Lexi Thompson, who is heading the other way. She's one over for her round today through the first six holes, having bogeyed 2. The 2014 Dinah Shore winner – how on earth does Lexi only have one major on her roll of honour?! – won't be in the thick of it today. Small mercies: at least she won't be put through the ringer like she was at Olympic last year.
The world number one Ko Jin-young opens with a birdie … and so here's our first opportunity to update the upper reaches of the leaderboard.
-13: Lee
-10: Harigae
-7: JY Ko (1), Law
-6: Choi (1), Nordqvist (1), L Ko, Lin, Lindblad -a-
-5: M Jutanugarn (3), Khang (3), Ji, Maguire (1)
-4: Vu (5)
Lilia Vu nearly gave up golf a couple of years ago. Good thing she didn't. She's in good position for a high finish today after rounds of 71, 69 and 71, followed by a fast start today. Birdies at 1 and 2, and the 24-year-old Californian has risen to -4, just one place outside the current top ten. She would have made it there too, but having launched a 4-iron to 12 feet at the par-three 5th, her birdie putt shaves the lip.
A disappointing start to the round for Leona Maguire. The 27-year-old from Ireland knows exactly how to launch a charge up the leaderboard on major Sunday, having shot a record-equalling 61 – 61! – on the final day of last year's Evian. If she was to retain any sort of hope today, though, she required a flier from the blocks. Letting a six-foot birdie putt on 1 slide by isn't that; the look on her face suggests she already knows a long shot has just become a dot on the horizon. She remains -5, eight behind the leader Minjee Lee.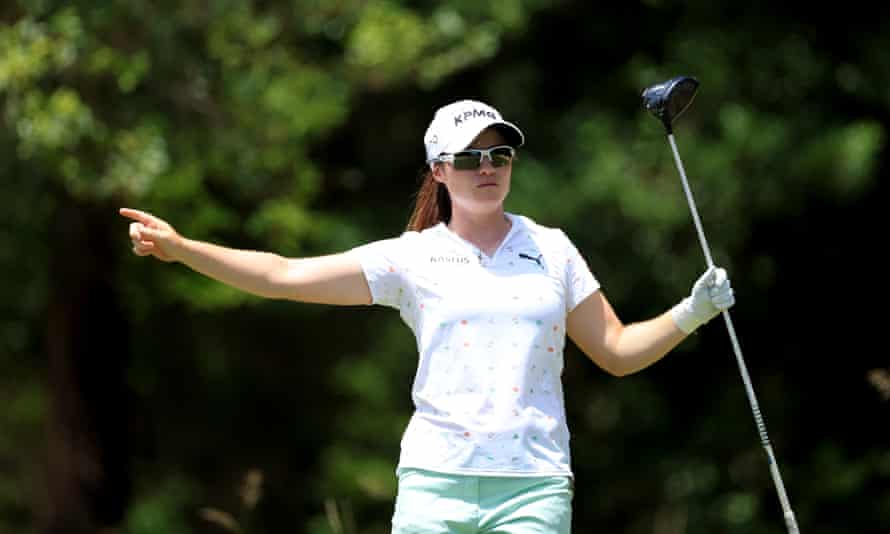 Kim Sei-young has the PGA Championship on her resumé, plus top-five finishes at the Dinah Shore, Evian and British Open. The best she's managed in eight previous US Open appearances is a tie for eighth in 2017; other than that, it's never really happened for her at the oldest major in women's golf. She's currently fixin' to do something fairly memorable here today, though. She's currently through five holes without a par: four birdies, plus a double bogey at 2. She's -3 overall, yesterday's 75 having ruled her out of serious contention.
Chun In-gee won the first of her two major titles at the US Open at Lancaster Country Club in 2015. A magnificent final round of 66 sealed the deal that day. She won't be adding to her major tally today – the 2016 Evian was her other big victory – but the 27-year-old Korean does look set to enjoy another low-scoring Sunday. Birdies at 1, 2 and now 6, and she's moved into the current top 20 at -1.
Park Sung-hyun won this trophy in 2017 Trump National, holding off the sensational challenge of 17-year-old amateur Choi Hye-jin (more of whom later, almost certainly). The 28-year-old South Korean is going along very nicely this afternoon, having just added to early birdies at 1 and 3 with another at 10. At three under for her round, she's the lowest scorer out on the course right now. She's -1 overall, and having started her week with a pair of 69s, will be deeply regretting yesterday's miserable 77.
The new Dinah Shore – OK, Chevron – champion Jennifer Kupcho never got going at this US Open. The last player to make the famous leap into Poppie's Pond, ahead of the Chevron's move from California to Texas, shot 71 today. Not a single round under par this week, which is uncharacteristic behaviour. She ends her US Open at +7. Next year at Pebble Beach, maybe.
The 2019 champion Jeongeun Lee6 is the very early clubhouse leader. The 26-year-old South Korean has rebounded from yesterday's disappointing 77 with a fine 69, sealed with birdies at 15 and 18. She ends her week at +5, and she'll always have Charleston.
The Pine Needles Lodge and Golf Club has always produced a US Women's Open champion out of the top drawer. The tournament has been held here in Southern Pines, North Carolina three times before, in 1996, 2001 and 2007; in reverse order, the winners those years were two-time major champion Cristie Kerr, seven-time major champion Karrie Webb, and ten-time major champion Annika Sörenstam. Pine Needles: sorting the wheat from the chaff for decades.
Going into the final round of the 2022 edition, it looks as though Pine Needles will crown another multiple-major-winning US Open champion later today. Minjee Lee, last year's winner at the Evian, is three shots clear of Mina Harigae, six clear of third-placed Bronte Law, and seven ahead of a star-packed peleton. The 26-year-old from Perth, Australia is 18 solid holes away from her first US Open and her second major title. After rounds of 67, 66 and 67, you wouldn't bet the farm against her.
But strange things can happen on any given major Sunday. Lexi Thompson, at one point five clear of the field at Olympia last year before collapsing on the back nine in the Arnold Palmer style, can attest to that. So nothing's certain … and there's one hell of a field waiting to take advantage of any big slip-up from the leader Lee. Harigae shot a best-of-week 64 on Thursday. Bronte Law, the street-fighting hero of Europe's 2019 Solheim Cup win at Gleneagles, is finally making her mark at the majors. Ko Jin-young, Nelly Korda and Lydia Ko are the world's number one, two and three players respectively. (Lee is four.) Anna Nordqvist knows how to close out a major, her amateur compatriot Ingrid Lindblad is having the week of her life, Megan Khang surely has to land a big title soon, Choi Hye-jin nearly won this prize in 2017 as a 17-year-old amateur, and Leona Maguire has already proven her ability to shoot 61 – 61! – on the final day at a major. (Last year's Evian, for the record.) So yes, anything can happen.
Here's how the top of the leaderboard looks after 54 holes. These leaders start making their way out on the course at approximately 1.30pm local, 6.30pm BST. We'll get going then. It's on!
-13: Minjee Lee
-10: Mina Harigae
-7: Bronte Law
-6: Lydia Ko, Lin Xiyu, Ingrid Lindblad (a), Ko Jin-young, Anna Nordqvist, Choi Hye-jin
-5: Leona Maguire, Ji Eun-hee, Megan Khang, Moriya Jutanugarn
-4: Nelly Korda
https://www.theguardian.com/sport/live/2022/jun/05/golf-us-womens-open-final-round-live-updates