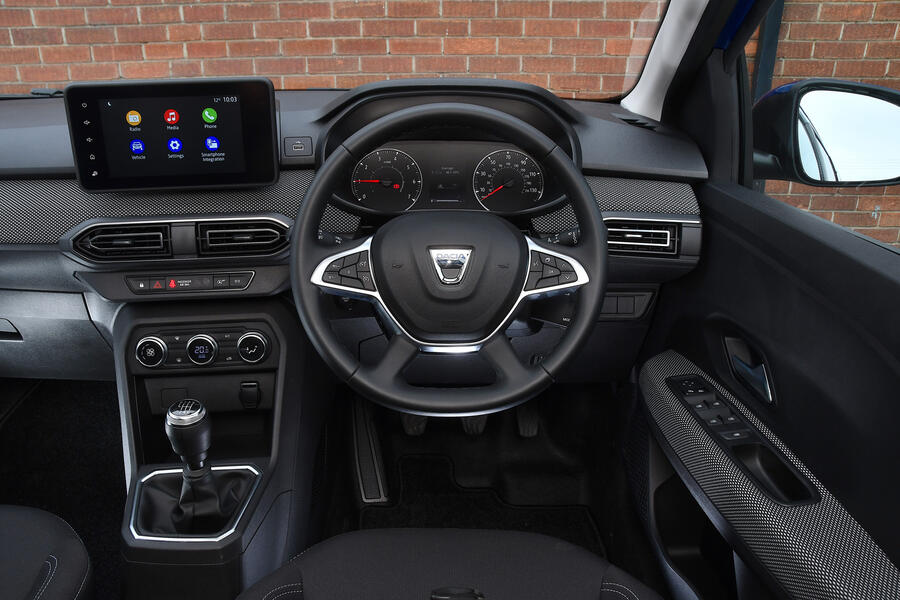 It has decent ground clearance, too, which is sure to come in handy on rugged tracks down to campsites and photography locations, although you can't currently buy a Jogger with four-wheel drive. Still, simplicity in the driveline department ought to make it frugal, and our car claims to achieve 48.7mpg combined.
So what exactly is our car? It's a Jogger TCe 110 in mid-ranking Comfort trim. And unless you're going to treat this as an out-and-out utility car, Comfort is probably where you would start.
Entry-level Essential doesn't even come with an infotainment system and certain safety aids, but Comfort gets those, along with modular roof rails, automatic wipers and a reversing camera. It also gets body-coloured door mirrors and bumpers, cruise control and, handily, a tyre-pressure-monitoring system. Go for top-billing Extreme and you add alloy wheels, heated seats and touchscreen infotainment.
As for the oily bits, there's a sideways 999cc turbo petrol engine paired with a six-speed gearbox. For now, this is the only configuration available in the UK, although a more powerful 1.6-litre hybrid will make its way here next year. Chassis-wise, there's not even the option of adaptive dampers and the back axle is by torsion beam (although let's not pre-judge).
What I will aim to find out over the next few months is just how well the Jogger works with sustained real- world use. Is it really comfortable enough over distance? Just how versatile is the seating? Is 108bhp enough if you have more than five people in the car or lots of kit? Is this vehicle truly spacious enough? Is the Jogger as frugal as Dacia claims?
https://www.autocar.co.uk/car-review/dacia/long-term-reviews/dacia-jogger-2022-long-term-review