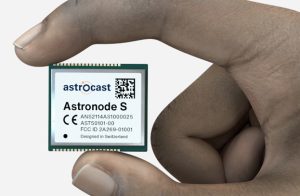 It is based on an architecture developed by French research lab CEA-Leti, and an IC co-developed with Astrocast to optimise its link budget and power consumption to suit a particular Astrocast's ground-to-satellite protocol – which offers a variable user message between 1 and 160bytes and end-to-end message latency of around 15 minutes.
"We pioneered this RF technology in 2019, and our team customised it for Astrocast up to production in only three years," said CEA-Leti business development manager Michel Durr.
Physically, the module is 35 x 31 x 4.1mm with castellated pads for soldering.
It runs from 3.3V, consumes <350mW during its transmit peak, and will deep-sleep at <500nA.
Astronode S includes LEO satellite-specific features such as satellite detection and Doppler shift compensation, as well as a 3.3V UART serial interface to its host, two-level 256bit AES security and a unique device key. Two module pins are provided for the necessary external antenna.
Compliant with CE, FCC, RoHS and REACH, the module is aimed at maritime, oil, gas, agricultural, land transport and environmental applications.
For hazardous locations: "Astronode S is suitable for integration into devices intended to be ATEX/IECEx certified. The module works at low power and without current pulses. It is also free of any built-in voltage step-up converters," said Astrocast.
https://www.electronicsweekly.com/news/products/rf-microwave-optoelectronics/remote-iot-land-and-sea-module-communicates-with-space-2022-09/