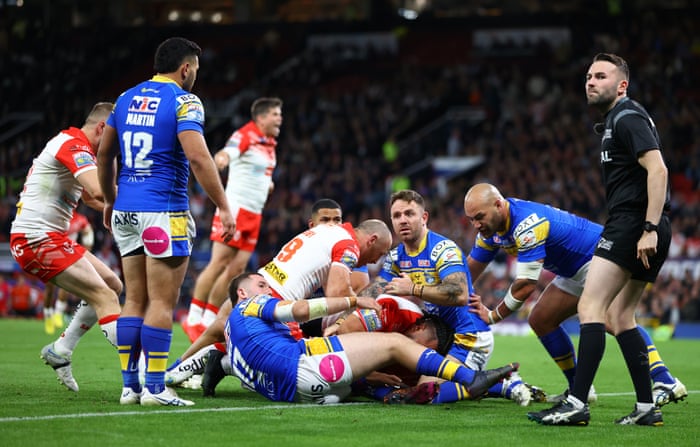 Key events
65 mins. Rhyse Martin receives a ball on the right, twenty metres out, and drives hard to the line. He's over but as he tries to ground he's wrapped first by Hopoate then Wingfield scrambling across preventing him getting it down. No try!
62 mins. It's fling and run tactics from Leeds now, but St Helens are up to the task of containing it so far.
TRY! St Helens 24 – 6 Leeds Rhinos (Mark Percival)
58 mins. St Helens pile on the pressure deep in Leeds territory with Hurrell driving up before a set restart is awarded as the tiring defence lies on a little too long. Early in the new set Percival is first to ground an angled grubber from Welsby.
Makinson makes no mistake with the extras.
It's something of a procession now.
55 mins. With 25 mins to go, Leeds are already starting to look forced and fretful in possession. The latest issue being Blake Austin flinging a pass behind all his players.
53 mins. Leeds are back in the St Helens 10m, and it looks like they've squandered a set restart with a knock on, but the defence was offside. Another set is worked left but the Rhinos' old friend the handling error surrender possession; Liam Sutcliffe knocking on in the tackle.
50 mins. St Helens are making metres around the play-the-ball at will, either via the indefatigable Roby or the many willing runner. McCarthy-Scarsbrook adds more territorial damage from a carry, but the ball is lost and Leeds return it with interest as Rhyse Martin has a long run into the Saints half
There's still plenty of time to go, but it feels like that's the killer score as far as the result goes.
TRY! St Helens 18 – 6 Leeds Rhinos (Konrad Hurrell)
46 mins. James Roby hammers towards the Leeds line on the right; but straining every sinew in his aged, pumping legs is not enough to prevent the blue defence stopping him short.
But Saints come again and Konrad Hurrell smashes into the Rhinos' defence and wriggles and wrestles his arm free to kiss the whitewash with the ball.
The ref awards it on the pitch and video ref agrees. Makinson converts.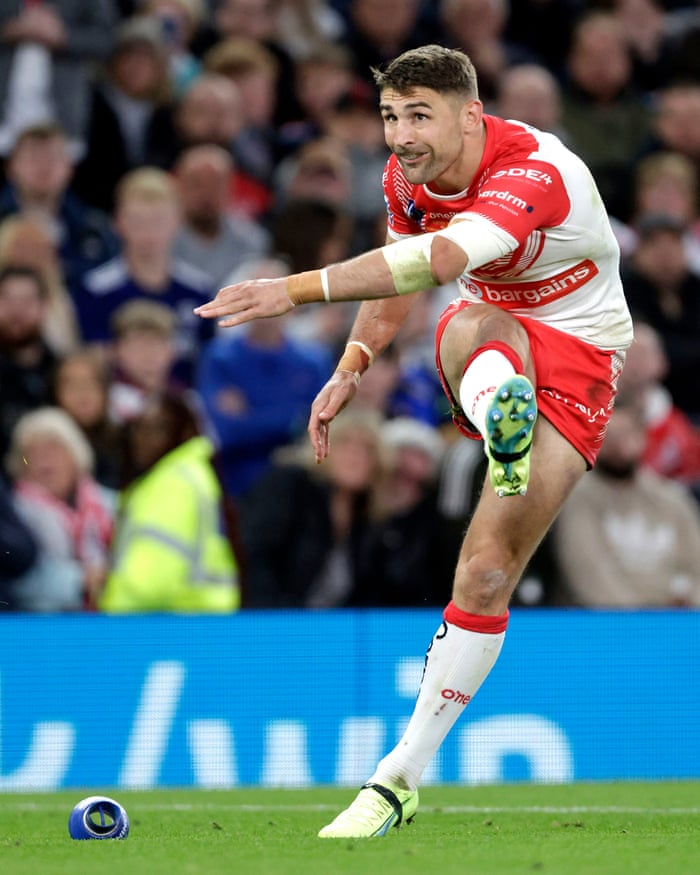 42 mins. Lomax kicks early in the tackle count on the first Saints set, but Myler is up the task of gathering the ball for Leeds. It's an unfussy, settling set and deep kick in response from the Rhinos.
40 mins. Zak Hardaker puts his foot through the ball and St Helens will bring it back to start the second forty.
Half time musings.
St Helens were by far the better side for pretty much all of that half, yet find themselves only six points ahead after the late Leeds rally. The Rhinos will take heart that their only real, meaningful pressure near the Saints line brought points at the perfect time.
Even with that late show in the first half, it still feels that St Helens are just too strong all over. But this Leeds side have been defying expectations for months; who's to say they can't do it again?
The hooter sounds and that's yer lot for this half
TRY! St Helens 12 – 6 Leeds Rhinos (Kruise Leeming)
40 mins. From the middle of their own half, Leeds break via a Hardaker step and go that puts him through a gap to run 4o metres. On the next tackle they work it left and some desperate offloading eventually finds Leeming to dab down over his head as he's twisted onto his back by the Saints defence.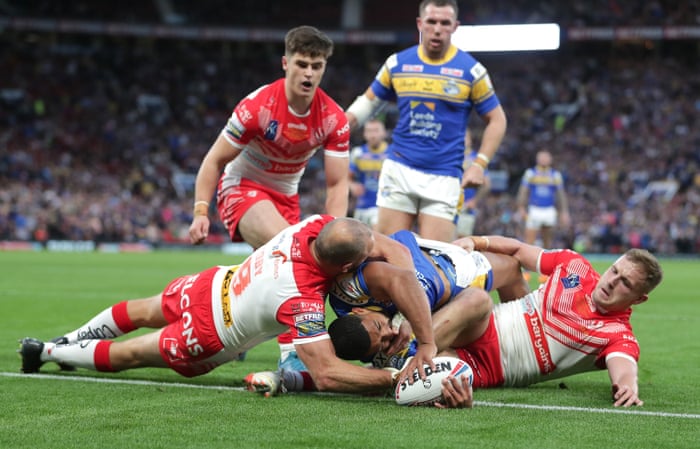 Martin adds two.
38 mins. In their best few minutes of the half, Leeds are up to the Saints line again, but on the fifth the short kick from Smith can do nothing but find a pair of St Helens hands.
35 mins. Leeds look horribly ponderous in attack, with not enough intensity in the carries. However, the ball comes left for Sutcliffe who is through a gap and looks to be away before Lomax grasps his ankles and chops him down five metres out. They are over the line on the next tackle but the Saints defence drive them back and prevent a grounding of the ball.
33 mins. On the latest Leeds set, Blake Austin decides it's time to test the young Saints fullback Bennison's ability under the high ball. When the ball comes down from the floodlights, the teenager is solid as the proverbial with his take. Some game from the lad so far.
31 mins. Makinson takes a great catch chasing a Lomax kick five metres from the Leeds line, he hits the deck and flings it backwards in hope. It finds Mark Percival who drives towards the line, but the Rhinos scrambling defence holds him short.
Makinson has a bit of treatment but appears to be OK.
MISSED PENALTY! St Helens 12 – 0 Leeds Rhinos (Tommy Makinson)
28 mins. Johnny Lomax is lifted and dumped by Rhyse Martin. He's lifted beyond the horizontal but lands on his back rather than anything more dangerous; but this makes no difference to Jack Welsby who flies in, followed by plenty players from each team for some moody pushy-pully action.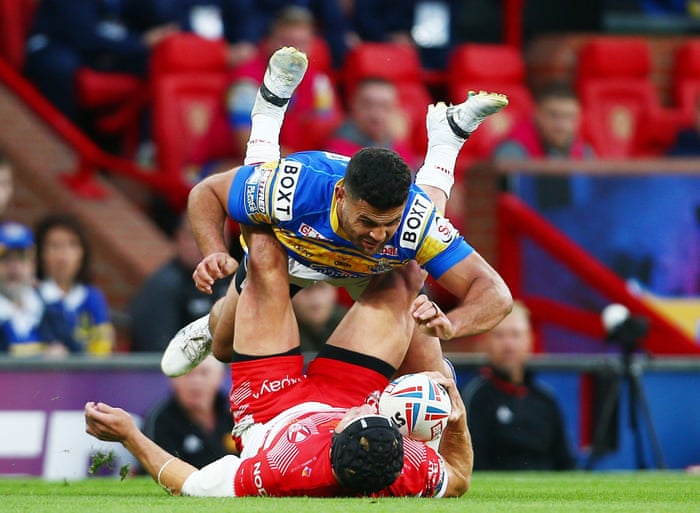 When the dust settles, Ref Moore gives a penalty to Saints and Makinson pulls it left.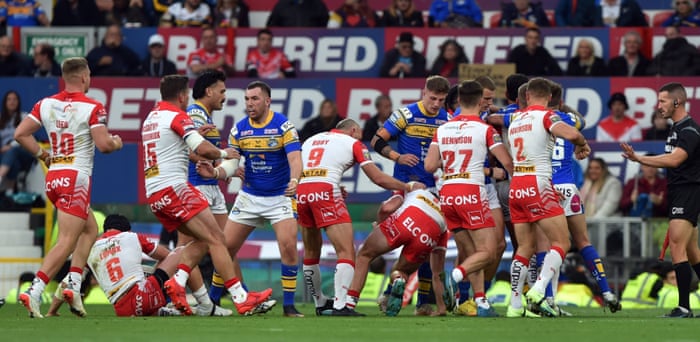 25 mins. Leeds have a set for the first time in a while. There's a brief chink of light on the right but Sutcliffe can't find Tom Briscoe before the attack fizzles out on the fifth tackle.
St Helens come back and the ball is moved right to Konrad Hurrell who drives hard for the right corner. He's in touch, inches short.
23 mins. A let off for Leeds as Lomax, of all people, can't hold a pass from Roby. In the half-back's defence, it was low and down by his boots.
21 mins. In the latest chapter of Saints' dominance, a Welsby kick forces Cameron Smith to take a tackle in-goal. St Helens will come back at them again from the drop-out.
St Helens are completely on top here. Each of their carries has more metres, their decision making on late tackles is better and, unlike Leeds, they have the handy knack of actually catching the ball.
TRY! St Helens 12 – 0 Leeds Rhinos (Jon Bennison)
17 mins. More rapid progress from St Helens finds Lomax who carries into the Leeds 10m and dinks a short grubber over the line in the left corner for the teenage Bennison to dive on it.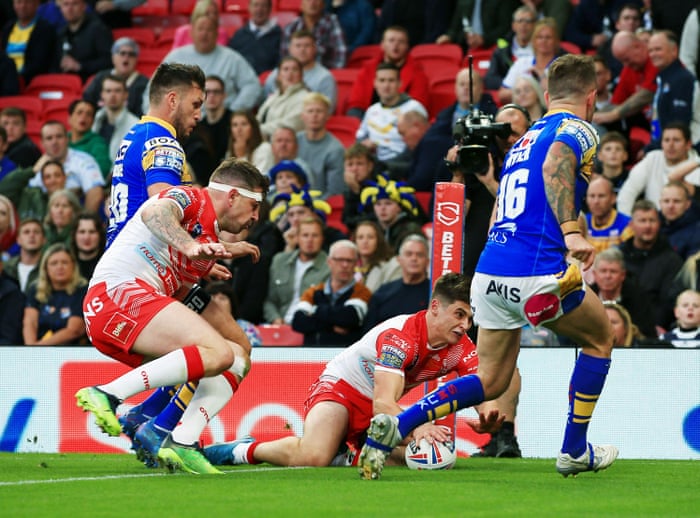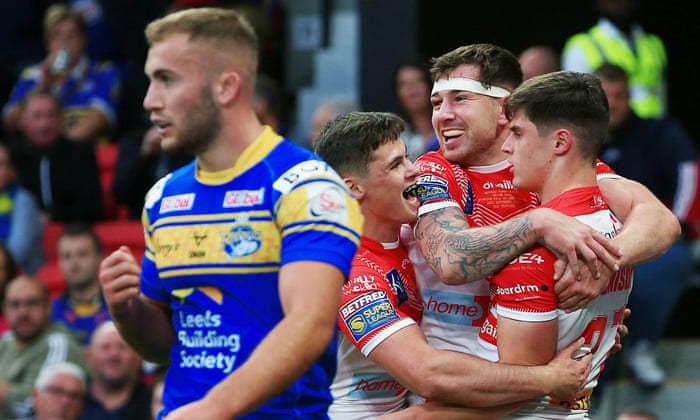 Makinson hammers a brilliant two points over from the left touchline
16 mins. Blake Austin punts a 4o/20 kick to put Rhinos on the attack inside the Saints 20m. It's gathering some forward momentum up to the 10m, but a short pop to Martin from Cameron Smith goes to ground.
14 mins. In his returning match, Will Hopoate gets his first chance to rumble the ball up from deep following a Sutcliffe kick, but he's rattled to a stop after 20 metres. Saints work it left to Mark Percival who's forced into touch by the swarming Rhinos defence.
11 mins. Leeds are playing themselves in the game after that early blow, but on the fifth Sutcliffe slips over inside the Saints have it back. St Helens progress quickly towards the Leeds line, but Johnny Lomax is hauled to the ground attempting to run it on the final tackle.
8 mins. Rhyse Martin rips the ball one-on-one to win possession back for Leeds in the Saints 20m, but in their rush to move it right Liam Sutcliffe can't grip the ball and it's lost forward. Lost opportunity for the Yorkshire side.
6 mins. Saints have their dander up and big carries from Hurrell and the forwards have them on the Rhinos' 20m on the fifth tackle. Lomax puts the kick up and Richie Myler claims a towering catch to diffuse the bomb for Leeds.
TRY! St Helens 6 – 0 Leeds Rhinos (Matty Lees)
2 mins. Leeds have a solid opening set, the kick on the fifth pinning Makinson deep in St Helens territory. The Rhinos follow up with some pulverising defence, but are bit too keen around the head and give Saints a penalty.
On the next set Lomax drifts into a gap and pops left to Lees who has a free run from 15 metres for the fastest try ever in a Grand Final.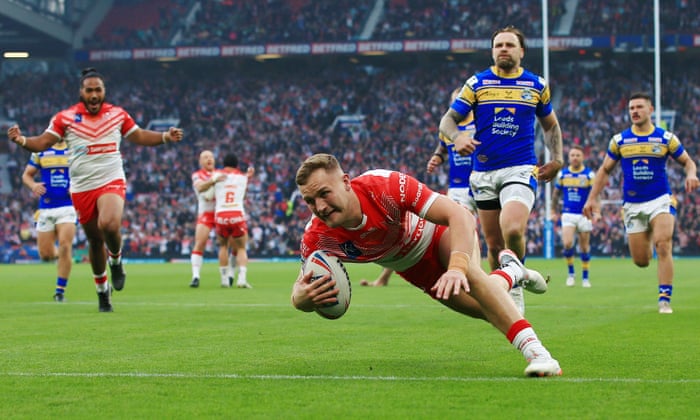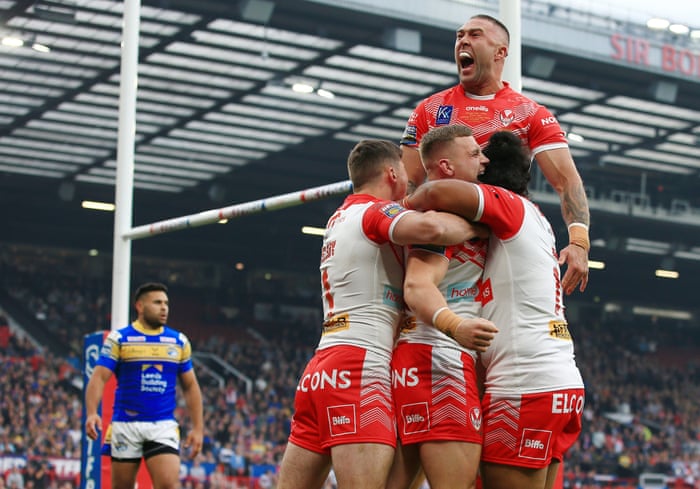 Makinson converts and the Saints fans are BOUNCING!
Tommy Makinson boots it deep and we're underway!
Here come the teams, both sporting their home kits. There are pyrotechnics and music, but the fans can still be heard above the din as each side bellow for their respective men.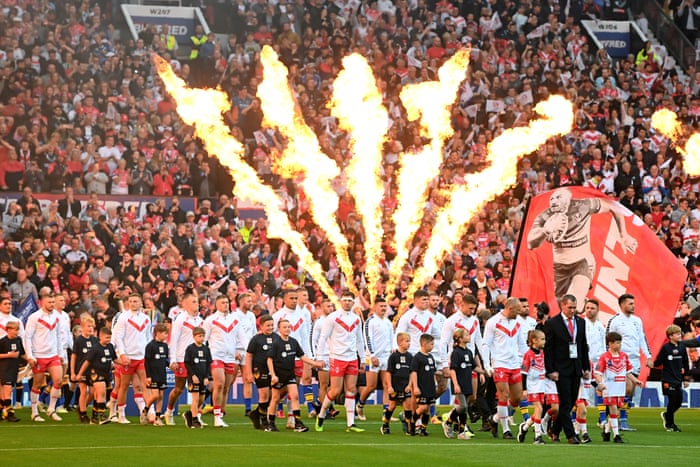 Legendary prop, Terry O'Connor, brings out the Grand Final trophy to what sounds like a few boos from the Saints fans. He did play for Wigan, after all.
His son Jarrod starts at hooker for Leeds today, and if he's half as hard as his dad then he'll still be harder than about 98.86% of the general population.
Conditions look good and two teams with very different approaches should bring us a fascinating final.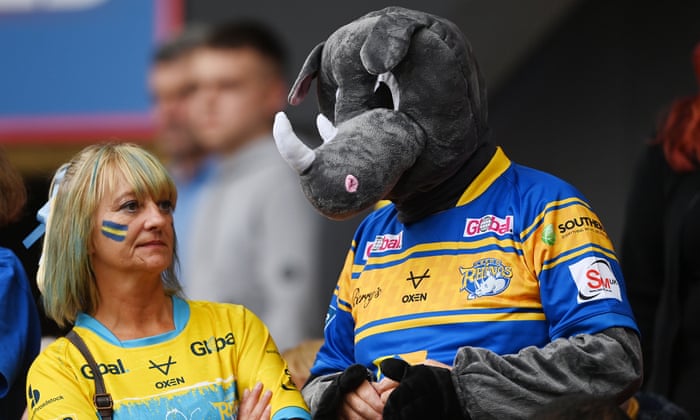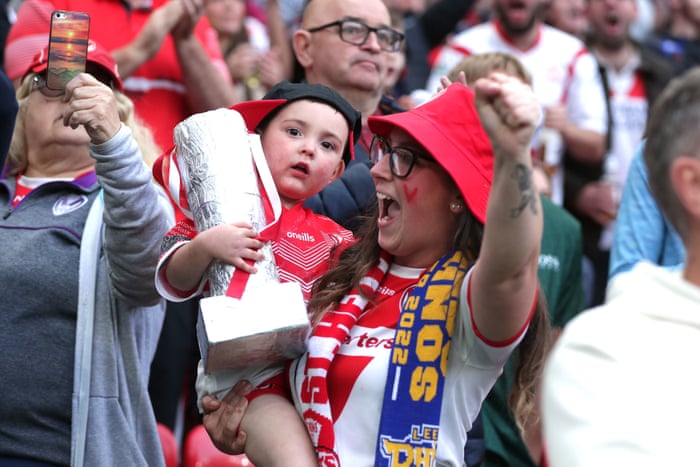 You can let me know your thoughts via the e-mither or by tweeting @BloodandMud
Kristian Woolf names Will Hopoate in the Saints team for the first time since his hamstring injury in August.
Leeds will field England wing Ash Handley as well as Rhyse Martin, but a notable absentee is Aidan Sezer at half-back, ruled out due to a failed a head injury assessment.
Welcome to Old Trafford for the big match as St Helens take on Leeds.
So far, so normal for St Helens in 2022. Yet another season of domestic dominance under the departing Kristian Woolf delivered the league leader's shield by six points. Following this, a relatively comfortable play-off semi-final win over Salford sees them gunning for an unprecedented fourth Grand Final win on the bounce against Leeds Rhinos – coincidentally, the only other team to win three consecutive Old Trafford outings).
The Leeds route here was more of a circuitous mini-bus trip than the Saints' limousine ride. Looking down and out in May, new coach Rohan Smith boosted performances and morale to deliver wins in 11 of the last 13 games, leading to a strong victory over Wigan in the semi.
Will Leeds' momentum carry them all the way to a first title in five years, or will St Helens' continuing class see them to a record breaking evening?
All this and more in the next few hours.
https://www.theguardian.com/sport/live/2022/sep/24/st-helens-v-leeds-rhinos-super-league-grand-final-2022-live