Schildren of all ages hang out in the recreation area. One group of teenagers from a local school calls a sun bench between two planters "cool". One family sits with a child on a shady seat on warm evenings. People have lunch on benches. Community-selected and installed planters are a tiny but fascinating example of what can be done with the quiet radical policies that several councils are trying to implement.
When Newham council first proposed the idea of ​​a 'participatory budget', a fund to which local residents could propose ideas and receive funding, provided other residents approved, it seemed impossible to imagine what could emerge.
The idea was born in Porto Alegre, Brazil in 1989, but is still relatively rare in the UK. But in the past two years, Newham has allocated £800,000 to projects such as funding for play equipment, a 'community wardrobe' and litter collection. The idea is to give people a say in improving their communities and setting local priorities. The council says there has been nothing like it on this scale in the UK, although several similar projects have preceded it, including GovanhillGlasgow.
In Newham, one project has transformed a previously unloved railway bridge drive into a magical woodland walk. Food growing and tree planting were also featured. Manor park public garden has been awarded £20,000 to revitalize the former car park space and improve accessibility.
Rosie Vituloi, one of the garden's trustees, says: "I think Newham has made it possible for people to get involved and make decisions about what happens locally, but they've also created a network of people who want to do more. I am very grateful to be involved and meet everyone, especially after Covid. Community gardens are very different from parks, they help bring people together and share skills. There are people who lived on the same street for 20 years and did not meet until the garden."
Over the past year, 82 successful pooling projects were implemented, and 37 – about 45% – were related to greening. That's how I got involved, hoping to add a bit of greenery to my neighborhood in Newham, where I've lived for a few years. A group of us applied for and received a £5,000 grant for five chunky planters in an area that previously had only concrete.
After we received the funding, we flew over 100 homes inviting everyone to come and join in the planting. Over two sunny weekends in March, a diverse group of about 25 people, from children and young parents to middle-aged women and local councillors, turned up to help. I recorded part of the project for my podcast, Streets ahead.
We had much wider support, with the estate management company Swan donating £3,000 and a small grass cutting firm, NEUK, spending 17 working days designing and building huge planters and benches out of railway sleepers (prefab planters are expensive and small), and also access to their trade accounts with plant and soil suppliers. A professional gardener friend, Lisa, helped pick and place the plants, and we borrowed a trowel and wheelbarrow from another community garden nearby. We've chosen low-maintenance ornamentals, a few grasses and flowering shrubs, and shade-loving plants for some boring-looking tree pits near the playground.
After planting day, six weeks without rain preceded a 40C heat wave. A few plants were damaged or stolen – not many – and a couple died. We and the staff at Manor Park Community Garden spent hours watering for several weeks. Fortunately, along with the hose ban came rain.
There is a growing body of research showing the benefits of green spaces and how people want more of them. A study published last week University of Glasgow found that a 10% increase in gardens and "natural spaces" such as forests reduced early mortality among people over 65 by 7%.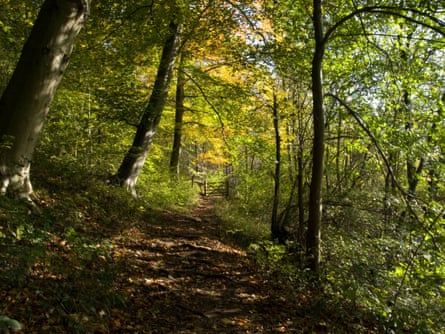 Seems to be quiet popular too. Within two weeks of starting the environmental charity Parklet plotter on World Car Free Day, September 22, which allows people to nominate sites (and designs) for new pocket gardens, often in former parking lots, the map has 500 suggestions.
The Possible map highlights areas of deprivation and access to green space, revealing the structural inequalities that Glasgow researchers have found are shortening people's lives. While poor communities – and Newham has some of those the most disadvantaged communities in the UK – there may be countless immediate priorities, not least housing and feeding people, the desire for a green respite is perhaps surprising.
It was worth it. Our planters were not universally popular – one neighbor lodged a formal complaint with the council about the loss of an unofficial parking space, groups of men drinking there on several nights, litter – but the conversations, even those that disagreed, were largely constructive. When I caught Covid last month, one kind neighbor who was skeptical about the planters when they arrived offered to go shopping for me. A participatory budget gave us the power to make decisions about our neighborhood – and we chose more green.
https://www.theguardian.com/environment/2022/nov/25/money-to-grow-radical-policy-helps-communities-green-own-spaces