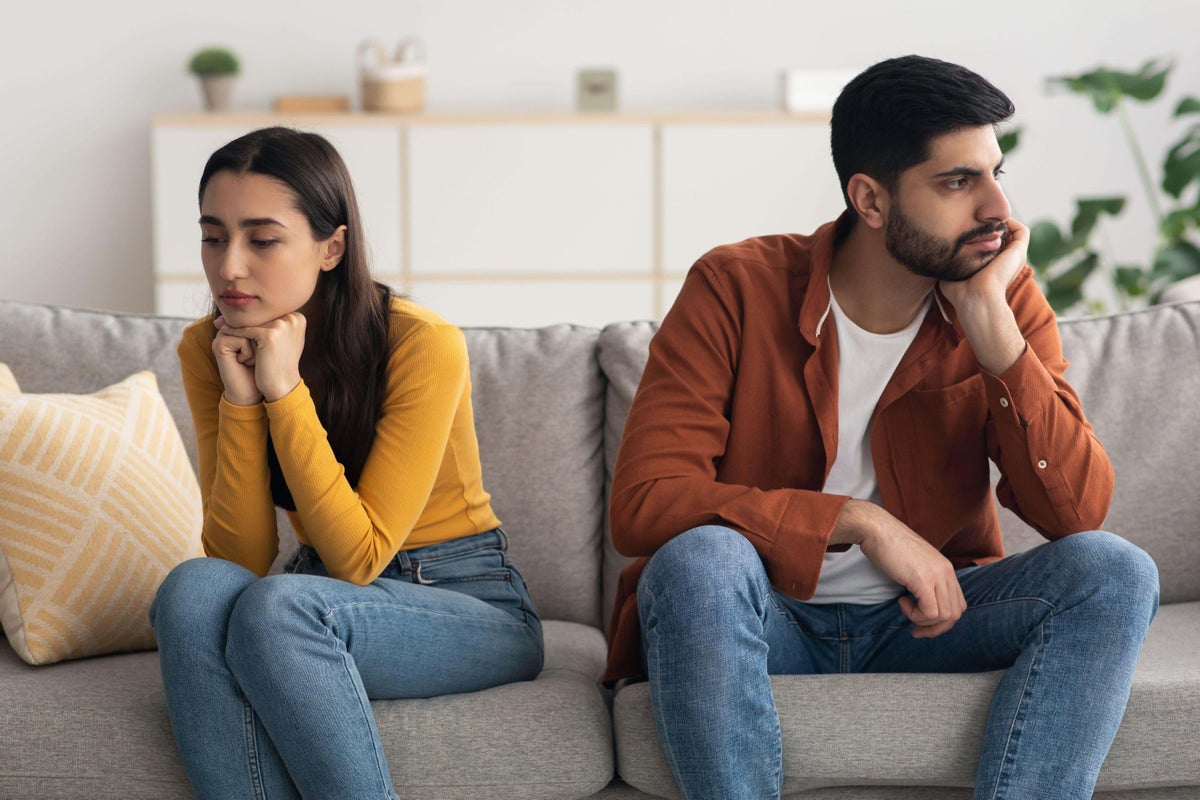 Buying a home together is usually a big and exciting step for a couple, marking the next stage in their relationship.
But life does not always go according to plan, and some couples may break up in the future – and the cost of living is rising sharply, and the housing market looks uncertain, this may mean that they live together for a long time, but "separately".
Studies from the real estate site Zoopla found that couples who continued to live together after separation spent an average of just over a year in that situation.
Three in 10 (30%) described the experience as embarrassing and just over a fifth (22%) said it was excruciating. According to a Zoopla survey, one in six (15%) said their ex-partner started a new relationship while they were still living together.
Money was a big driving factor for people staying under the same roof, with almost half (47%) saying they simply couldn't afford to leave.
Lizzie Cooper, 43, who works as a PA in London, says she ended up living with her ex-fiancé for seven months after their split. Their relationship ended several years ago in what Cooper describes as an amicable split, and their apartment was put on the market.
After the initial offer fell through, Cooper says, "It took a month or two to find another buyer, and then another few months to complete the apartment I wanted to move into.
"Luckily, we had two bedrooms, so we had room," adds Cooper. "And we had holidays during that time, so we weren't living in each other's pockets all the time."
Discussing how she managed to handle the situation, she explains: "I have a very traditional family who saved up for the wedding by being the parents of the bride. This meant I was able to use the money to help find a new home.
"It's been a long seven months, and it's still a sad story," Cooper admits. "Although now I walk past the old flat without any worries and have definitely found a home in my current place with my dog ​​Maurice and love the freedom and independence that my own money brings."
The Zoopla study also found that a third of people had no savings when they broke up. A fifth planned ahead by setting up an "escape fund" – a separate bank account specifically for savings so they could start over after the breakup. The average amount they held was £5,586.
In general, a number of factors can affect the assets that anyone is entitled to walk away from after a break-up, including whether they are married or cohabiting and who is named in the documents relating to the property – so it may be helpful to get legal advice .
Some housing market experts have said they expect housing prices to fall in 2023. This can make breaking up a property more difficult in cases where the property is now worth less than the amount previously borrowed to buy it – otherwise known as negative equity.
Nick Neill, head of property and lettings agency EweMove, says: "It's always stressful when a relationship ends, and it can be made even more difficult when it comes to selling a home with negative equity, although it can be somewhat less painful if After the transaction is complete, the extra money can be shared."
Who owns what can depend on several factors, he says, adding: "If you have 50% of each [or whatever share you specified] then the distribution of trading assets is straightforward.
"However, it's also worth bearing in mind that both parties may be jointly and severally liable for the mortgage, so if one party defaults on their share of the mortgage payments, it can affect the other party's monthly cash flow. prospects, but may also affect their credit rating in the event of default. Without a doubt, a quick and conflict-free sale is in the interests of both parties – not only emotionally, but also financially."
James JonesExperian's head of consumer affairs, adds: "We should all review our credit reports regularly to make sure they reflect the facts, especially when personal circumstances change.
"For example, if you've recently ended a relationship in which your finances were linked – such as a joint checking account, personal loan or mortgage that has since closed – then unless you take action, your credit reports will remain linked.
"You can easily remedy this by filing a 'financial separation' with your ex-partner at each of the three major credit reference agencies, who will ensure that your future credit applications no longer depend on their finances."
Experian has more information on general finance on its website (experian.co.uk). Zoopla has also created a guide on how to navigate co-housing in the event of a break-up, which can be found on their website (zoopla.co.uk).
https://www.independent.co.uk/life-style/love-sex/couple-break-up-buying-house-living-together-b2265911.html