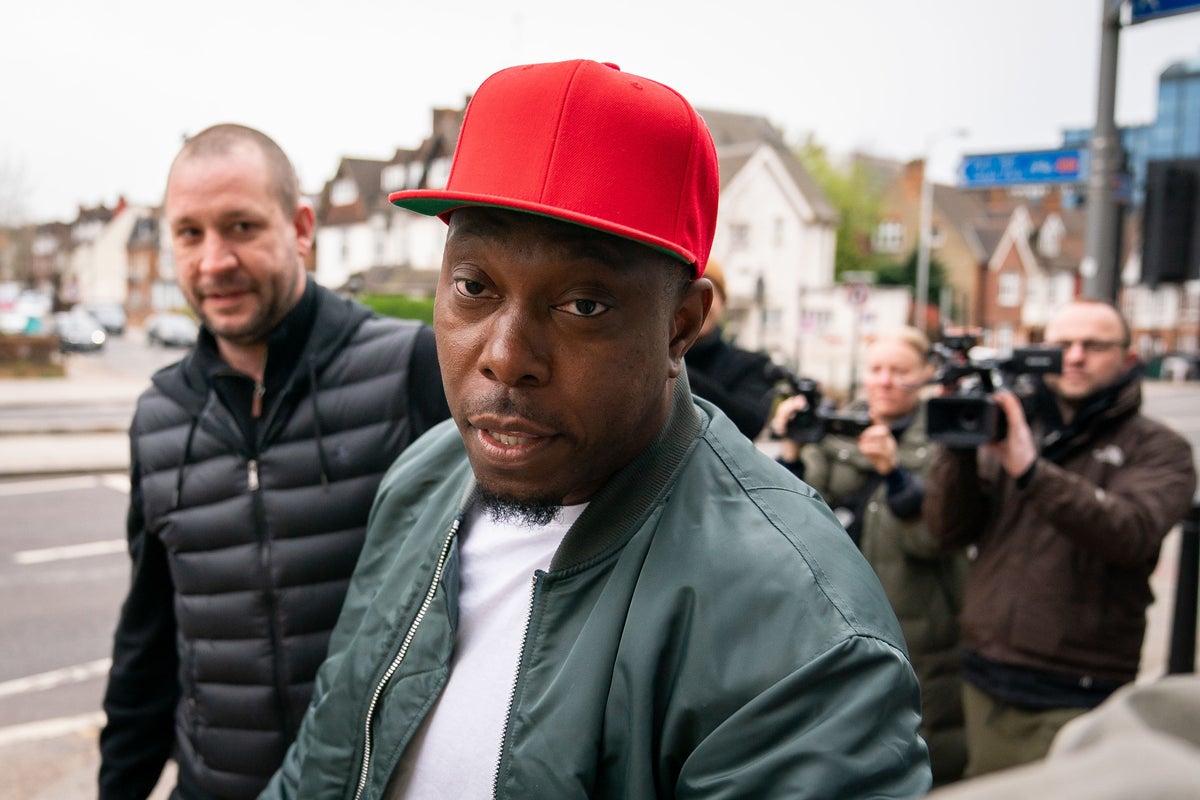 Ex-fiancee a Dizzy Rascal told survivors of domestic violence "you are not alone" after the rapper lost an appeal against his conviction for assaulting her on Friday.
In a statement, Cassandra Jones said the court's verdict showed that "wealth and status cannot be used to silence women" and that "support is out there".
"This verdict shows once again that wealth and status cannot be used to silence women," she said.
"Domestic violence is a crime that affects one in four women in their lifetime.
"I would like to thank my family and friends and the specialist organizations that have supported me throughout and to tell other abused women that no matter the money or influence, there is support and you are not alone." .
Ms Jones added that she had found the appeal "very upsetting" and the experience had helped her understand why "so many women drop out of the criminal justice system".
Dizzy Rascal, 38, whose real name is Dylan Mills, was found guilty at trial last April of assaulting Ms Jones by pressing his forehead against her and pushing her to the floor during a "chaotic" row at her south. London at home in June 2021.
The musician, who is known for his chart-topping singles Bonkers and Dance Wiv Me, sat calmly in the dock at Inner London Crown Court as his appeal against his conviction and sentence was rejected.
District Judge Vanessa Baraitzer, sitting with the panel, said they were "satisfied" that the case had gone "as the Crown argued" and that Mills "used his forehead to push Ms Jones". room.
During the trial, Mills, who had two children with Ms Jones before they split in February 2021, allegedly 'barged' into the house, hit his head on the fridge three times while holding his son and started 'screaming' at his ex-partner and her mother Dawn Kirk.
The judge said Ms Kirk was a "compelling" witness whose evidence during the appeal was "balanced" about the angry scenes she saw that night.
Ms Jones previously told the appeal hearing that she "stumbled to the ground" after Mills "pressed his forehead on my forehead and pushed me around the room".
"He reached his red fog where he didn't care," she said.
Testifying Friday, Mills denied those claims and said he wasn't angry when he got to the house.
He told the court that Ms Jones was "hostile" towards him when he came to her home.
Mills said he had a "good day" with his family just hours before.
He said he was not in a "bad mood" when he arrived at the house, but was "annoyed" that Ms Jones kept contacting him about why he was late getting there.
The court heard that in one of their exchanges he told her she was sending him "small text messages" and that "you don't deserve that much of my time and energy, I'm only here for the kids".
Mills said there was an uproar in the house when an argument over money broke out between the musician, his ex-fiancée and Ms Kirk.
He said he went into the kitchen and asked Ms Kirk "why she allowed Cassie to use my children as a weapon against me".
Mills said of Ms Jones that "she was shouting at me", before adding "we were all shouting, it was really loud".
Claiming she hit him with a mobile phone, he said: "She was throwing herself at me. She hit and scratched me several times. She hit me with the phone."
He added: "I took it off her. She beat me again."
In a prepared statement given to police after Mills was arrested, he said he was left with scratches on his left arm from the attack and this was documented by a nurse, the court heard.
Mills described himself as "calm and relaxed" when police arrived but the court heard he told them: "I'm the aggressor".
Asked by his barrister Sally Bennett-Jenkins QC why he made the comment, Mills said: "I was just joking and joking."
In April 2022, Mills was given a community order, including a 24-week curfew and a 12-month restraining order banning him from contacting his ex-partner, and ordered to pay £2,190 in costs and £95 costs.
Those penalties have not been modified, and the restraining order will expire in April.
Mills is also ordered to pay £620 appeal costs.
Mills, who released his debut album Boy In Da Corner in 2003, became MBE for services to music in the Queen's Birthday Honors 2020.
https://www.independent.co.uk/news/uk/crime/dizzee-rascal-inner-london-crown-court-london-mbe-b2270907.html